Permanent link
All Posts
05/19/2014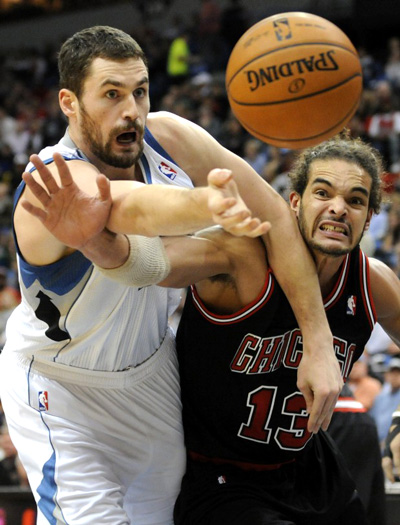 The Bulls' Joakim Noah fights for the ball with Kevin Love, who is looking for a new team this summer and could be on the Bulls' radar.
This is the biggest summer for the Bulls since 2010, which was the biggest summer for the Bulls since 2000. And what did those two summers have in common? Big, game-changing star free agents were on the market; the Bulls courted them, and ended up with none of them. What do they have to show for those two summers? Ron Mercer and Carlos Boozer.  
And so begins the summer of 2014. 'Melo, LeBron and Bosh can opt out. Kevin Love is demanding a trade. Big names are once again potentially on the market, and the Bulls are once again looking for a star. The way I see it, this summer could go a few ways. Join me, won't you?  
Scenario 1: The Bulls convince Carmelo Anthony to take a major pay cut to play with a top-tier coach and a fully prepped roster of great role players and defenders. Melo comes to Chicago and becomes the 1A create-your-own-shot guy they have been looking for since MJ hung them up. If Carmelo knows whats good for him, he'll take the kind of pay cut that will allow the Bulls to keep Taj Gibson and Jimmy Butler, which frankly, is the only way I see this happening, as Melo won't want to go to another gutted team. But to partner with Joakim Noah, Derrick Rose, Gibson and Butler – that could be a very good thing. Carmelo isn't perfect, but he may be exactly what this team is missing.  
Scenario 2: The Bulls take advantage of Kevin Love's threat to leave Minnesota and put together a trade package that will likely have to include Gibson along with their 2014 draft picks and the rights to Nikola Mirotic. Kevin Love is a great player, but, I'm not sure if he is THE guy to put them over the edge, to take the ball in his hands at the end of games when Rose is being double teamed (assuming he still has a functioning body by that point). And it still leaves a major scoring hole with both their shooting guard and small forward positions.  
Scenario 3: The Bulls convince Nikola Mirotic, their 2011 draft pick currently playing for Real Madrid, to come over and pair with Rose, and we find out if he is Dirk Nowitzki or Andrea Bargnani. Those excited about Mirotic, remember this – they called Toni Kukoc the Michael Jordan of Euro basketball. And when he came over and actually played with Michael Jordan, all he lived up to was a solid sixth man with a very short shelf life. There's a lot of unknown with this scenario.  
Scenario 4:  The Bulls strike out again, and end up with a couple second-tier free agents that tie up money and aren't enough to put them over the top. Lance Stephenson comes to mind. This is the one scenario that CANNOT happen.  
This is a huge summer for the Bulls. After two full seasons of the "try-hard bunch" and two full seasons of injuries to our superstar with the $90 million contract, the fans are done being satisfied with "putting up a hell of a fight." The Bulls need to be serious contenders. And if a big move is not made this summer, upper management needs to questioned. Between their rift with coach Tom Thibodeau and their inability to hook the top free agent, they deserve to be questioned.  
I cannot handle another season of watching a team that cannot score, that overplays their starters in meaningless games and plays without their best and highest-paid player. They cannot just hope Rose comes back and surround him with more role players. We cannot count on Rose being the man. Gar Forman and John Paxson need to get their big fish this summer, otherwise we may not be able to stomach one more year like this one.