Permanent link
All Posts
A guide to getting your gluten fix in Chicago before the matzo meal begins
04/10/2014
If you're at all like me, one of your favorite things to do in Chicago is go out to eat. With a plethora of delicious restaurants, Chicago has a great food scene. I love trying out new places and, of course, returning to all of the establishments that I adore. Living in a Midwest metropolis means that many of the best places have amazing carbohydrate-filled delicacies—foods that are huge no-nos during Passover. 
If you're trying to plan how to fit in some great meals before your eight-day abstinence from bread, pasta, pizza, etc., you are in luck. Here are my recommendations of some of the best places to feed your carb cravings before Pesach begins.
Pizza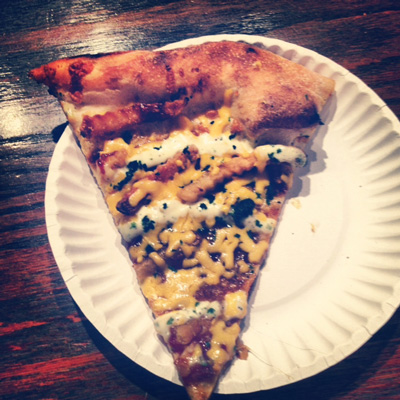 Pizza topped with French fries, cheddar cheese, BBQ sauce, and ranch dressing at Dimo's Pizza.
Pizza is, hands down, the greatest food ever created, right? Of course. For a casual meal in a relaxed, but fun atmosphere, I suggest going to Homeslice. It's gotten to the point where I go to Homeslice at least once a month because it is that delicious. They offer individual pizzas, sell pitchers of great beer, and have a patio that I plan on utilizing as much as possible over the summer. I recommend ordering the breadsticks and goat cheese. You can even skip the breadsticks and just dip your crust in the sauce (thanks friends for thinking of this brilliant idea!) "The Big Teve" on whole wheat crust is also a must-have. This pizza includes spinach, roasted red peppers, red onions, mushrooms, oregano, feta, parmesan, mozzarella, provolone, garlic and olive oil. Need I say more? 
I also have a soft spot for Dimo's Pizza. Although I didn't go to University of Wisconsin, I spent enough time there that sometimes I feel like I could convince people that I did. One of the best places in Madison, Wisc. is Ian's Pizza, where you can line up into the wee hours of the morning to get your slice of mac and cheese pizza (yes you read that correctly and it is heavenly). When I found out Ian's operates as Dimo's in Wrigleyville, and now Wicker Park, I was thrilled. Sometimes at 2 a.m. on a weekend night, you just need a slice of pizza. Also, sometimes you might want one mid-day—what? Anyhow, Dimo's has amazing varieties of pizza offered by the slice including the infamous "The Mac" topped with macaroni noodles and cheddar cheese on a homemade crème fraiche base. My other favorite pizza there is the "High Fry" or any variation of this slice that is available that day which includes hand-cut French fries with mozzarella and BBQ sauce on a creamy bleu cheese or preferably ranch sauce base, topped with cheddar cheese and fresh parsley. 
Beyond that, the classic deep dish pizzas at Lou Malnati's, Pequod's, and Giordano's are worthy options, although I think they are worth saving for a celebratory feast once Passover is complete.
Burgers
Keeping kosher makes going out for burgers kind of monotonous at times. I get sick of eating the same boring veggie burgers that I pretend taste as good as hamburgers, when, in fact, they usually do not come close. This is one of the many reasons that I love DMK Burger Bar. Beyond their amazing milkshakes (half peanut butter, half chocolate is my favorite) and crispy fries, which you can get for free before 7 p.m. if you check in on Foursquare, DMK has one of the best salmon burgers that I have ever tasted. The fresh salmon is seasoned with ginger, topped with scallions, and includes Asian slaw and spicy, red Thai curry sauce. 
When I am in the mood for a real burger, nothing is better than Milt's BBQ for the Perplexed. Everything on this menu is incredible and even if you aren't in the mood for a burger, you can always treat yourself to their smoked brisket sandwich that is out of this world.
Brunch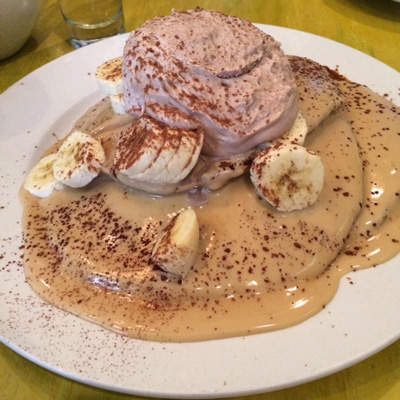 Bananamisu Pancakes at Bongo Room
Like most 20-somethings, I am obsessed with brunch. Not much is better than waking up on your day off and treating yourself to an extensive, delicious meal. The best brunch in Chicago is hands-down at Bongo Room. Although I have only been a few times, their sweet pancakes and French toast options are incredible. One of the options that they have available right now is Bananamisu Pancakes, a breakfast friendly spin on the classic Italian dessert topped with fresh bananas. Everything on their menu sounds like one of the best foods ever created. Although there is usually a pretty decent wait time to get in, it is completely worth it. I also love Hash House A Go Go, mainly because they have homemade flakey biscuits. Who can say no to that?
Desserts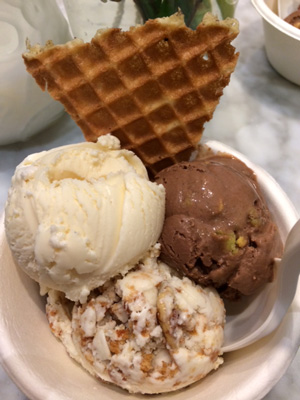 Birch & Marshmallows, Banana French Toast, and Chocomole ice cream at Jeni's Splendid Ice Creams
As always, save (one of) the best for last. I have a huge sweet tooth and my favorite places to nurture that sweet tooth are Sweet Mandy B's and Jeni's Splendid Ice Creams. Besides the fact that Sweet Mandy B's is one the cutest bakeries in the world, their buttercream frosting is absolutely perfect, especially on top of their homemade sugar cookies and homemade rice krispie treats. If those don't float your boat, they have many varieties of cakes and cupcakes, including snickerdoodle cake, which I have yet to try, but I might just need to before Pesach. 
As a Michigan Fan since before birth (probably), loving something that came out of Columbus, Ohio seem wrong. However, when it comes to Jeni's Splendid Ice Creams, it has to be right. Jeni's has some of the best ice cream that I have ever tasted. Their flavors are creative, dynamic, and extremely tasty. Some of my favorites that are available at their scoop shop right now are Banana French Toast (bananas and honey ice cream with homemade French toast gravel and hints of pecan, cinnamon, coffee, and maple syrup), Bangkok Peanut (roasted peanuts, honey, coconut, and cayenne pepper), and Dark Chocolate, which has the richness of fudge in every bite. Depending on how strictly you keep Passover, some of their varieties may be okay to nosh on during your eight-day hiatus from bread, but even so, it would be wrong to not stop in for a little taste.
If you say you aren't sufficiently hungry after reading this, I don't believe you. Enjoy some treats before it's time for matzah, macaroons and Manischewitz. Happy Passover!