Permanent link
All Posts
…dary party for a legendary show.
04/01/2014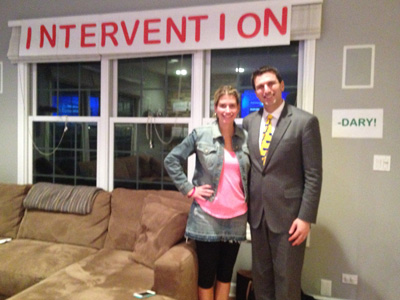 After nine seasons, Monday night was the last episode of How I Met Your Mother. Ted Mosby's kids (and countless fans of the show) finally know the full story of how he met their mother.
This show has always held a special place in our hearts. Jason started watching when it first aired in 2005, and he got Caroline into it when they met in 2008. A year or so later, Jason proposed to Caroline by creating a nine-minute video of how he met his future kids' mother. Jason (along with his sister in a blond wig) re-created the dates and events that led him to the Oy!Chicago launch party at Matilda's on June 12, 2008, where he and Caroline met.
To celebrate the show's series finale on Monday, we hosted a HIMYM party at our house for our friends and family who are also avid fans. This was Jason's second TV finale party, the first being for the Seinfeld finale in 1998, a party he hosted at his parents' house that made the front page of the Detroit News. So, needless to say, we went all out.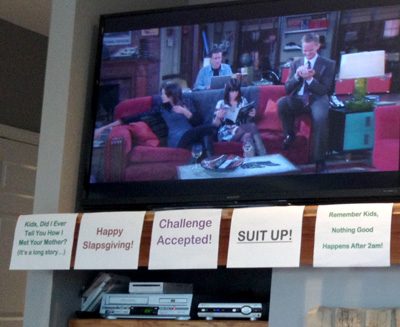 HIMYM catch phrases surround the TV.

As guests entered our home, the front door welcomed you to MacLaren's Pub and the cab driver Ranjit saying "Hellooooo." Then, a series of signs, each with pieces of "It's Gonna Be LEGEN- …wait for it … -DARY!" led everyone into the party. We had a large 10-foot "INTERVENTION" banner in the room and also had several HIMYM catch phrases posted everywhere, including "Challenge Accepted," "Suit Up!" and "Happy Slapsgiving." Additionally, The Bro Code was available for those that wanted to brush up on their Barney Stinson skills.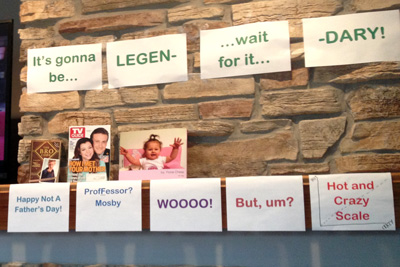 We of course had HIMYM-themed food, including long submarine sandwiches (actual sandwiches, not the "sandwiches" that Ted and Marshall enjoyed in college). For drinks, MacLaren's Pub is based on McGee's Pub in New York, which we visited a couple of years ago, so we featured McGee's list of HIMYM cocktails such as the "Robin Sparkles," "Have You Met The Captain," "Daddy's Home," "Don't Drink Tequila" and "The Pineapple Incident."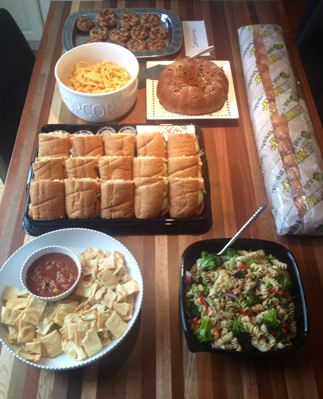 Lastly, some of us dressed up as our favorite character or guest star: Jason dressed as Barney Stinson suiting up with a ducky tie and Caroline dressed as Robin Sparkles. Fortunately, nobody came as "The Naked Man."
To get everyone in the spirit, we showed our four favorite episodes: "Woo Girls," "Spoiler Alert" (Glass Shattering), "Intervention," and the pilot episode so that everything would come full circle in the finale. We also had a HIMYM trivia contest to test our friends' knowledge and share little-known fun facts about the show. You can take our quiz at the bottom of this post and tell us how you did in the comments! The most anyone at the party got correct was 8 out of 20.
Jason's favorite trivia question asked what year Ted's kids filmed their final scene, which aired at the end of last night's episode. It was filmed on a closed set back in 2006. The two actors, the show's creators, and one camera operator were the only five people present and they all had to sign non-disclosure agreements. Little did they know they would have to keep the secret for eight years.
[Spoilers ahead!]
Some of us were surprised to learn that Ted and Robin would end up together in 2030 after Ted finished telling his story to his kids. On the whole, our group liked the ending for the most part. One friend said it was a perfect finale that ended how she expected. Another friend said the one-hour episode could have been longer and more time should have been devoted to the actual meeting of the mother. One die-hard fan said he always knew that Ted and Robin would end up together and that's probably why they never let us get too invested in the mother, even during the last season. The show was really about the five main cast members and Ted and Robin ending up together in the long run makes perfect sense.
We used to think that Ted couldn't end up with Robin because Ted's kids called her Aunt Robin; they did a great job of throwing us and so many others off for so many seasons. We especially liked the scene with the yellow umbrella in the rain, where Ted and Tracy (the mother) finally meet and click instantly.
[End spoilers]
It seems that we have grown up with these characters over the last nine years. When the show started, our group of friends was in their mid-20s, single, and always going to the bar. Now, we're into our 30s, married, and with babies – just like the show's characters.
Having met at the Oy!Chicago launch party and featured on Oy! a couple of times when we got engaged and married, we thought this was the perfect place to share our thoughts on the end of the HIMYM chapter of our lives. In a few years, our 14-month-old daughter, Ivy, will sit on the couch and be able to watch the proposal video, it might only be nine minutes as opposed to nine seasons, but it's our story.
As for future TV finale parties, any more and Caroline will probably need to break out the "INTERVENTION" banner.
HIMYM Trivia
1) What actor narrates Ted's voice while he's telling his kids how he met their mother?  What year is he telling them the story?
2) Robin Sparkles had two hits, what were the names of the songs?
3) What famous actress turned down the role of Robin when production began in 2005?
4) What was Quinn the stripper's stage name?
5) Where were Barney and Marshall when Barney loses a bet and is forced to wear a ducky tie for a year?
6) How often does "The Naked Man" work successfully?
7) How do you spell Robin's last name on the show? What is Cobie Smulders' full/birth name?
8) What's the name of the baby who leaves behind a sock that makes Lily decide she wants a baby?
9) Which neighborhood did Lily and Marshall buy an apartment that had a slanted floor? (Bonus question:  The name of that neighborhood is an abbreviation, what is it short for?)
10) Which song is stuck in the tape player of Marshall's old car? (Name the song and car)
11) When Ted and Barney turn Ted's apartment into an impromptu bar, what did they name it?
12) What is Barney's mistaken nickname that started when his name was written incorrectly on his drink?
13) In the ninth and final season, Marshall is in the car for several episodes driving to Robin and Barney's wedding, what is the name of his driving companion?
14) How often do Ted and Marshall watch the entire Star Wars trilogy?
15) What is the name of the drink that Marshall invented at MacLaren's?
16) What TV star had an uncredited cameo as a background MacLaren's patron in Season 7?
17) What is the name of the HIMYM "spin-off" that is scheduled to premiere soon?
18) What TV star is the real-life husband of Cobie Smulders who plays Robin?
19) What are the character first names of Ted Mosby's kids that have been sitting on the couch throughout the show?
20) In what year did Ted's kids film their final scene from the finale? Filmed on a closed set, all the cast and crew present had to sign a non-disclosure agreement. How many people were present?
Trivia Answers
1) BOB SAGET IN 2030
2) LET'S GO TO THE MALL, SANDCASTLES IN THE SAND
3) JENNIFER LOVE HEWITT
4) KARMA
5) IN A JAPANESE RESTAURANT
6) 2 OUT OF 3 TIMES
7) SCHERBATSKY. JACOBA FRANCISCA MARIA "COBIE" SMULDERS
8) JEREMY
9) DOWISETREPLA. DOWN WIND FROM THE SEWAGE TREATMENT PLANT
10) 500 MILES (I WANNA BE) BY THE PROCLAIMERS, IN A FIERO.
11) PUZZLES
12) SWARLEY
13) DAPHNE
14) EVERY 3 YEARS
15) THE MINNESOTA TIDAL WAVE
16) CONAN O'BRIEN
17) HOW I MET YOUR DAD. 
18) TARAN KILLAM FROM SNL
19) PENNY AND LUKE MOSBY
20) 2006. 5 PEOPLE (THE 2 ACTORS, THE 2 CREATORS, AND 1 CAMERA OPERATOR