Permanent link
All Posts
03/12/2014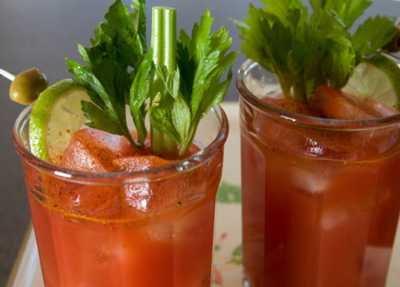 I have fun and delicious recipes to help you celebrate Purim and fulfill the mitzvot. My brittle with delicious pistachios and sea salt makes a fun gift or treat for your mishloach manot (Purim baskets) or your own celebration.
The drinks can also help you in your effort to fulfill the mitzvah of becoming completely blotto.
White Chocolate-Pistachio and Sea Salt Brittle
This brittle has everything I like: crunch, salt, decadent pistachios and sweet white chocolate.
My brittle has the fragrant addition of vanilla beans. I add the pods to the mix while the sugar is caramelizing to ensure a stylish and aromatic confection.
I also never use high fructose corn syrup. I prefer to use agave or honey. These sweeteners are tasty and a better choice, and since you are making this brittle for friends and family, go with the healthier option!
2 cups sugar
1/2 cup water
2 vanilla beans, scraped
1 stick unsalted butter
1/3 cup Agave syrup or honey
1/2 teaspoon baking soda
12 ounces shelled pistachios
Fleur de sel or crushed Maldon sea salt
8 ounces white Chocolate, chopped
Line a baking sheet with parchment paper and lightly
1. In a large saucepan, combine the sugar, water, scraped vanilla and pods, butter and agave and bring to a boil.
2. Cook over moderately high heat, stirring occasionally, until the caramel is deep amber and has the very first hints of a lightly burnt aroma (about 10 minutes).
3. Remove from the heat. With tongs, remove the vanilla pods and then carefully stir in the baking soda. The mixture will bubble. Stir in the pistachios, then immediately scrape the brittle onto the lined baking sheet.
4. Spray a sheet of parchment with oil or lightly grease with butter. Lay the parchment on top of the brittle and using a rolling pin, gently roll the brittle to an even thickness. DON'T TOUCH IT! It is HOT!
5. Sprinkle lightly with salt. Let cool completely, about 30 minutes. Break the brittle into large shards.
6. Melt the chocolate in a double boiler and dip the cooled brittle into the chocolate. Transfer the brittle to a parchment lined pan and allow the chocolate to harden.
Mitzvah Mind Meld
8 ounces gin
8 tablespoons fresh lime juice (from about 4 limes)
1/2 cup thinly sliced Persian or Kirby cucumber, scrubbed but not peeled
Tonic water
Lime wheels, for garnish
Fill four glasses halfway with ice. In a cocktail shaker, combine gin, lime juice, cucumber slices, and a small amount of ice. Shake vigorously for 1-2 minutes, and pour into ice-filled glasses, making sure cucumber slices are evenly distributed.  Top with tonic water; garnish with lime wheels.
Bloody Haman
24 ounces tomato juice
8 ounces vodka
1/4 cup fresh lemon juice
2 tablespoons hot pepper sauce
1 tablespoon olive or pickle brine
1/8 teaspoon cayenne pepper
1 teaspoon celery salt
1 teaspoon fresh cracked black pepper
2 teaspoons prepared horseradish
Garnish: celery stalks, dill pickle, green olives, wedge lemon or lime