Permanent link
All Posts
02/20/2014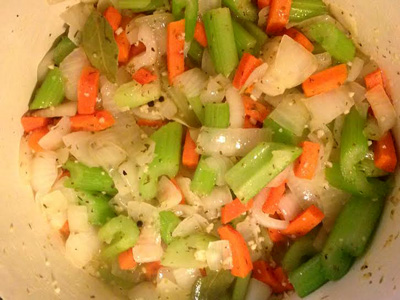 Confession: I am a cheater. No! Not the bad kind. I mean, there was that one time in high school. Doesn't everybody do that? My Geometry teacher was sick on the day of our midterm and yada yada yada … Because my friend Natalie and I swore each other to secrecy, I can't say another word, but you get the idea. No, I'm not talking about geometric proofs or romantic shenanigans. I'm talking about faking it in the kitchen.
I'm sure you have relatives or friends who make all sorts of magic happen in the kitchen. When these magicians want chicken, beef or even vegetable stock, they purchase the bones or celery or what have you and get to work. They might make their own jams, pickles, bread or even cheese. I absolutely admire this Old World attitude, but I can't pretend like it's not frustrating to see their kitchen sorcery.
I'm more impressed by their excellent time management skills than their ability to figure out how to make food from scratch. Who has that kind of time at their disposal? These must be the same people who manage to read 52 books a year. I applaud them but also have to try to turn away before my eyes roll right up onto my forehead. 
Again I say: I am a cheater. I make salads using canned veggies for goodness sake. One of my most favorite things to do is to take something delicious and wonderful and strip it down. How can I make a delicious _______ but with as little effort and gymnastics as possible? What I really want to know is how can I cheat? 
My most recent kitchen shortcut is chicken noodle soup. We've had perfect chicken noodle soup weather, but these dark skies don't make me want to stand in the kitchen all day long. I want a soup that tastes great and looks like I've devoted my whole life to making it happen. With the extra time you'll have left over after making this soup you can watch the whole new season of House of Cards – a second time.
Cheatin' Chicken Soup
Ingredients
3 teaspoons olive oil
3 carrots (medium chopped)
2 celery stalks (medium chopped)
1 chopped onion
1 garlic clove minced
1 teaspoon oregano leaves
½ teaspoon thyme leaves
1 bay leaf
4 cups chicken stock (canned!)
1 (8-12 oz) bag of egg noodles … depends how noodle you want the soup
2 cups shredded roasted chicken.
****We need to talk about the chicken! Jewel (and most other grocery stores) sell perfectly delicious shredded chicken in the deli section that will make your soup look like you're a Bubbe who has been hard at work all day. Or, if you can't find this, why not use canned chicken? You can find it right next to where the canned tuna. It's white meat and also completely delicious.
Directions
Heat oil in a large saucepan on medium heat. Add carrots, celery and onion. Cook until tender.  Add garlic, oregano, thyme and bay leaf. Stir everything together and cook for a couple more minutes. Stir in your chicken stock and bring to a boil. Stir in noodles and reduce heat to low and simmer for about 5 minutes or until noodles are tender. Add the chicken and give that enough time to warm up (5-10 minutes). Season to taste and remember to remove the bay leaf before you serve.