Permanent link
All Posts
01/14/2014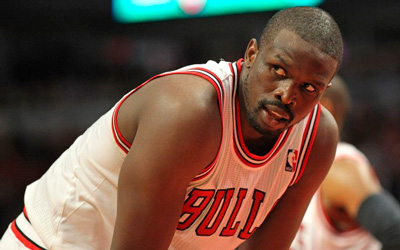 As a die-hard Bulls fan, this is not easy for me to write: trading Luol Deng was the right thing to do, for many reasons, especially after a second season-ending injury to Derrick Rose. The Bulls were not going anywhere this season, they weren't going to tank with Deng still on the team, and they more than likely were going to lose him to free agency and get nothing back for him at the end of the year if they didn't pull the trigger.
After being strung along all of last season, I was finally ready for true hope to return to Chicago this year with the return of Derrick Rose. We were finally going to see if the team we spent all of these years building would be able to finally overcome the Miami Heat and bring a championship back to Chicago, knowing full well that this might be the last chance for this group to do it. But when Rose went down, again, all of that changed.
I loved Deng on the Bulls. He lived well beyond everyone's expectations of him. But he was never going to be the no. 2 scorer we needed him to be, and the Bulls couldn't afford to pay him like one. In order to compete in the league the way it is structured now, the Bulls need a second star, assuming Rose is able to return to anywhere close to his MVP form. But now that the Deng trade is done, I'm starting to wonder, who is that going to be?
The name being thrown around now is Carmelo Anthony. And he's a great scorer, but not a great team player. He is not a leader, he doesn't make players around him better, he doesn't play defense, he doesn't share the ball – he is literally the antithesis of the culture the Bulls have built around coach Tom Thibodeau. As I describe Melo, he sounds like Michael Jordan early in his career, but remember – Jordan didn't start to win until Phil Jackson got him to understand that needed to do all of those other things in order to be the player he wanted to be and achieve all he wanted to achieve. I don't know if Carmelo is capable of that kind of transformation, and he's further along in his career than Jordan was at that time.
So, if its not Carmelo, whom are we making room for? The last few times the Bulls have made major moves like this to clear cap room, they have not been able to land the stars they went after. Whether it was Tim Duncan and Tracy McGrady, or Lebron James and Dwayne Wade – they have not been able to get the big fish. Instead, it's been Ron Mercer and Carlos Boozer. Will the Bulls go after Carmelo and land Lance Stephenson? And even if they do, is he enough to finally beat Lebron and bring a title to Chicago? And who else do the Bulls have to give up in order to get him? Boozer? Noah? Butler? The Bulls have never been able to build a team this way. They have failed every time. But they have been able to build winning teams through the draft through great role players and great coaching – not by stacking up stars through free agency.
Honestly, there's only one player the Bulls could acquire to get past LeBron James, and thats LeBron James. And as much as it may make Bulls fans cringe, LeBron is the only star the Bulls could get and instantly become championship contenders. The saddest thing about the Deng deal is the Bulls giving up on the notion that you can win with a team and not with a group of all-stars. That will sting all the more if the Indiana Pacers manage to defeat Miami this year, proving that it indeed can work.
So, the Bulls are back in re-build mode, though you'd never catch them using that word. They are clearing cap space and trying desperately to fall into the lottery, which is proving to be very difficult in this pitiful Eastern Conference. Even still, we're all hoping they can land a high draft pick; we're all hoping they can bring Nikola Mirotic over this summer; we're all hoping they can attract an all-star free agent this off season; we're all hoping Derrick Rose can come back, be healthy, and still be an elite player. All of these things could happen. And all of them could not. The current window could have closed as soon as Rose limped off the court in Portland. The Bulls are going to do everything they can to make sure it opens again sooner rather than later, but until we see something tangible, all we have to grasp onto is hope.