Permanent link
All Posts
09/04/2013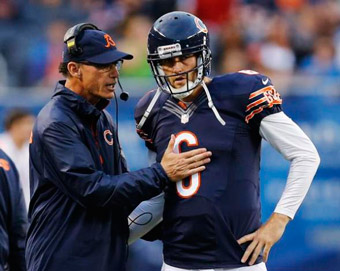 For the first time in nine seasons, the Chicago Bears will enter the year without Coach Lovie Smith on the sidelines. We'll have to learn how new coach Marc Trestman will show his emotional range during games compared to coach Smith, whose expressions varied anywhere from pursed-lips disappointment, to pursed-lips elation.
But it wasn't only the coach that changed. The Bears only retained one offensive lineman from last year – Roberto Garza – and have added tight end Martellus Bennett to their receiving core. They are without future Hall-of-Famer Brian Urlacher in the middle of their linebacking core, and Devin Hester has returned to his most natural role – returning punts and kickoffs. And while there is probably equal cause for optimism as there is for skepticism, there are mostly four questions to be answered entering this season.
1. Will the offensive line be an improvement over last year?
One thing we know for sure – it will be different. And perhaps it is sad that the most exciting thing about the new line is that J'Marcus Webb and Gabe Carimi are not going to be on it. But when you set the bar so low, it's easy to see an improvement. And anything is an improvement over what we've been subjected to. Kyle Long and Jordan Mills have given us reason to look up, even if it's just seeing two young promising names on the right side of the line. Jermon Bushrod and Matt Slauson are an upgrade on the left side – at least, in theory. But with a new offense and so many new faces on the line, will it lead to improvement – and more importantly, will we see it in Week 1? This is a much improved O-line, which was priority 1A in the offseason, and we got exactly what we asked for. And while they may take a few weeks to get into rhythm together, I do believe the upgrade will show if they can all stay healthy and keep Jay Cutler off his backside more often than he has gotten used to in recent years.
2. Will the aging defense start to decline?
My short answer is no. Not yet. I still think this unit has a year, maybe two left in it. And no matter how old they are, Lance Briggs, Charles Tillman and Julius Peppers on one side of the ball together will make for one hell of a defense. To me, it'll be the new faces. D.J Williams, despite not playing a minute of the pre-season, has been slated the starter at MLB over rookie Jon Bostic. And Williams will be on a short leash because from what I've seen so far, Bostic is ready to go. I think we will see a major step forward from second-year man Shea McClellin, and I think Isaiah Frey will step right in for the injured Kelvin Hayden and be an impact player. At least to start the year, I see no major weak joints in this aging Bears defense.
3. Can Matt Forte stay healthy and get into the end-zone?
A huge factor in the success or failure of the pass game will depend on Forte. If he can be a serious threat to not only open it up for a big run, but get in the end-zone, it will give the Bears a lot more flexibility in their pass game. He has to stay healthy, too. Michael Bush is a great back up, but if Forte gets hurt and Bush becomes the starter, it'll greatly limit their game plan. Forte looked great in the pre-season game against Oakland. And he appears to be a major part of the Bears plan in the pass game as well. But it should not be overlooked given all of the attention on Cutler. Forte needs to have a big year if the Bears want to return to the playoffs. And I think he will have his best as a Bear.
4. Will this finally be the system that fits Jay Cutler?
All signs point to "yes." Trestman comes to town with an incredible reputation for getting the best out of quarterbacks. He brings a west coast offense that has worked for Cutler before. And now Cutler will have more weapons, with a healthy Alshon Jeffrey and aforementioned off-season acquisition Martellus Bennett at tight end. Earl Bennett still appears to be a question mark in terms of staying healthy and having an impact, but Brandon Marshall will again be an exclamation point. And while most expect either fireworks or disaster from Cutler, I fall somewhere in the middle. There will be flashes of great, there will be ugly moments. He'll make amazing plays and he'll throw terrible interceptions. I don't think Cutler's numbers will be overwhelming like many are predicting, but I still think this will be his best as a Bear. It has to be. Or else the Bears are back in an all too familiar spot: searching for a quarterback.
So without a moment of football played yet – here are my predictions for the Bears this season. While the Bears appear improved on paper, there will be growing pains. And with a more difficult schedule this year and an improved NFC North, it won't be a walk to the playoffs even with their improved roster and coaching staff. Records don't say it all – just look at last season. Off to a 7-1 start and then missing the playoffs. I predict the Bears will finish 10-6 again this season. But they will end up with a wild card spot, with a very good shot at making a run in the playoffs. But this is football and anything can happen, so let's bear down and enjoy the ride.