Permanent link
All Posts
08/28/2013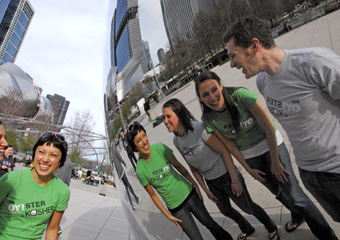 There's no Oy! without you.
Libby, my co-founding editor, and I wrote those words on the About Oy! page over five years ago, in April 2008, when we first launched Oy!Chicago. (I guess technically, there's no Oy! without yo!, but I digress). It was so exciting to see this vision come to life: an online space for Jewish conversation among Chicago 20- and 30-somethings—a place where Jews my own age could say what was on their minds, share their life experiences and engage with one another.
Since then, many things have changed in the world, in our community and at Oy!Chicago. From my perspective, one of the greatest and most rewarding parts of all of this has been watching as our bloggers have taken on new challenges and careers, traveled to amazing places, gotten married, started families and so much more. How cool is it that we have this all documented through Oy!? Many of our bloggers have been with us from the beginning, others have moved on, and lots new faces have joined our team. I have had the privilege of working with three incredibly talented co-editors—Libby, Cheryl and now Steven. Over the years we have had a total of 50 regular contributors, plus countless guest bloggers—that is a community in and of itself!—and reached more than 250,000 unique visitors.
Through all the changes and redesigns and new writers, one thing has remained constant: There is no Oy! without you. Without your input, comments and participation, Oy! is just oy….
Last night, our team of bloggers got together to reflect on how we're doing and to brainstorm what comes next for Oy! as we move into the new year. I left the meeting feeling inspired and reinvigorated—we've got some great stuff coming up on the horizon.
It also inspired me to write to all of you—Oy! readers, friends of Oy! readers, Oy! bloggers past and present—to ask you what you think.

What is your relationship with Oy!?
What would you like to see on Oy!—what would get you commenting and sharing more?
What stops you from commenting on posts?
Do you want to get together for more events?
What else?
Please tell us by commenting below, answering our short survey or emailing me privately at Stefanie@oychicago.com. Seriously, tell us what you think—I promise, we'll listen.
And lastly, I want to invite you to contribute to Oy!, as a guest blogger or a regular monthly contributor. We are always looking for new bloggers to join the Oy! team—you don't have to be a professional writer or a professional Jew, just a Jew-ish Chicagoan who has something to say and brings a unique perspective. All our bloggers are volunteers, but they get great exposure, an opportunity to write about what they love and the chance to be part of our awesome team.
And remember, there's no Oy! without yo(u).