Permanent link
All Posts
04/09/2013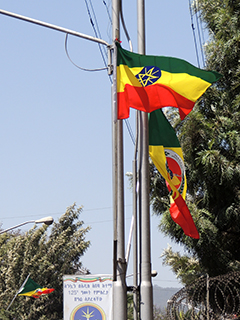 We landed in Addis Ababa Ethiopia around 1:30 in the morning. The airport was mostly empty save for the faces we had shared recycled air with since our transfer in Turkey. We paid our passport fee to unsmiling men and women, (who very well may have been used to the middle of the night shift but still weren't happy about it), and gathered our 12 pieces of luggage from baggage claim. We stepped into the darkness of the middle of the nighttime sky and I had this weird feeling of being home somehow even though our home was hundreds of miles away.
Our first day started early. Our bodies and minds trying to figure out where we were, what time it was, while trying to remember not to wet our toothbrushes with the sink water. Were we hungry? Tired? Having to go to the bathroom? The interesting thing about kids is that when posed with an overwhelmed system, they just seem to simplify things. They look outside, there's daylight, and they get up. No clock check – no count of hours slept versus hours ahead. They spy a pool and they run to play in it without the fear of looking fat in a bathing suit or proper water temperature. They don't overthink. They just honor the moment. So that's what we did at our first glimpse of morning time in Ethiopia. And we let that set the tone for the rest of our journey together. Let us not think so much. Let us just do and be.
There were so many notable moments in our journey back to our daughter's birth family in Ethiopia. This would be my 3rd visit to the country, my husband's 2nd and our biological children's first. It would be the first time for all of us that Fray's two families would see and embrace one another as a whole. Two years ago I had brought Fray back to Ethiopia to see her biological family, but never ever had I had the opportunity to stand looking at all of us together. There we all were – Fray's two families on a playground, laughing at something so universally hilarious, it cut the need for two translators to explain what we were so desperately attempting to communicate though words. And there I was, lamenting on the private journeys each of our families had taken in order for this moment in time to be. This moment in time of togetherness was a miracle for all of us.
Sometimes the feeling that something has truly been a miracle slowly fades. You totally believe in fairies and unicorns and the power of wishes coming true just because you squeeze your eyes shut in just the right way with sweaty, shaking fingers tightly crossed. Time and space and the monotony of daily routine can silently and without notice erode the precious inches forward that our better selves have made. I know that. It's happened to me before. But this moment, this miracle moment, it had too many witnesses to fade. It is in each of us – each of us having a unique view from our own set of eyes – the memories of the laughter and the sober understanding that gift of adoption is not a simple one to give.