Permanent link
All Posts
03/14/2013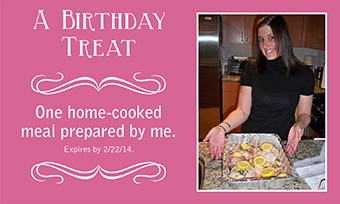 For my husband's 30th birthday last month, I decided to get him 30 gifts. This is a cute idea in theory, but in practice can become rather pricey. So I decided that a large portion of his gift would be something he wants more than anything else in the world—home-cooked meals prepared by me.
Do you remember a few years back when I set out to prepare a traditional Shabbat dinner? I surprised myself by not failing miserably and created a pretty tasty meal, if I may say so myself. I still did not enjoy touching or preparing a whole, raw chicken, but with some help, I did it. I vowed then that Mike, my then-boyfriend, now-husband, and I would set aside time one Shabbat a month to prepare meals together, spending quality time and improving my seriously lacking kitchen skills.
Well, you know how it goes. Life happened. We got engaged, got sucked into wedding planning, moved, got busier at work, got a puppy, and let's face it, got lazy. My husband, I should add, is excellent in the kitchen and enjoys preparing meat-filled, manly meals that I get to enjoy. He gets so much joy out of seeing me eat the food he makes, but deep down, I know he wishes I would return the favor once in a while.
And here's the thing—I want to love cooking. I really do. I want to want to spend time in the kitchen, instead of putting something together as quickly as I can and using the least amount of pots and dishes possible. I even had some success making kugel for Rosh Hashanah this year (with Mike's help) and I love spending quality time with my grandma learning to make some of her famous recipes. But I just haven't had the drive or the confidence to get in there and do it myself.
So when I handed him 10 coupons each offering one meal prepared by me, I decided it was go time. Time to just get in there and do this—alone.
He redeemed his first coupon this Sunday night. We had eaten a lot of heavy, meaty meals over the course of the weekend (and also I'm not a huge fan of preparing meat), so I told Mike to find a recipe for a vegetable-filled pasta dish. Start off easy. He found a recipe online for Mediterranean pasta with vegetables.
It wasn't gourmet by any means, and it took me three times as long as it should have, but nothing came out of a can and I did it—all by myself. And I had fun. I even took a little creative license with the recipe.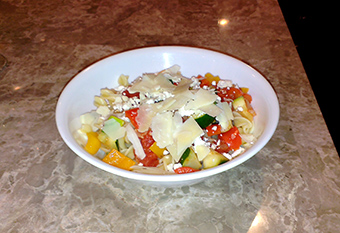 And what was really nice about it was that I got all the ingredients at Trader Joe's and paired with a bottle of Two Buck Chuck, it was much more economical than ordering in Thai food or pizza, our usual Sunday night fare.
I don't know when he'll redeem that next coupon, but in the meantime I'm looking for side dishes to prepare when we host our families for Passover in a couple weeks. I'm thinking I'll tackle sweet potato casserole myself.
I'm also hoping that by the end of this 10 meal project I've created for myself, that I'll feel more comfortable and confident in the kitchen. And fingers crossed, maybe I'll even graduate from a wannabe cook who hates cooking to an okay cook who thinks cooking is kind of fun—I'll keep you posted. Until next time, this wannabe cook is signing off!