Permanent link
All Posts
01/21/2013
This year, instead of throwing together a list of resolutions I'd promptly forget or break, I made a handy "13 Goals for 2013" list, which I've plastered all over my house and lodged deeply into my brain (and my blog). One of my ambitions in 2013 is to find ways to incorporate Judaism into Colin's life in baby-friendly ways. 
In no way would I self-identify as "religious," but before I became a full-time mom, I spent five years working full-time in the Jewish community, four years before that active at the Ohio University Hillel, and four before that as an active participant in the B'nai Brith Youth Organization. So without being particularly proactive, I've always had an obvious, natural foot in the door for easy entry to the Jewish community  I always had my niche, without having to actually invite Judaism into my front door.
Since Colin was born, that has not been the case. Of course, we tied a little kippah on his head, had his bris, and ate a bagel in his honor. We traveled to Ohio to celebrate the High Holidays (which Colin basically slept through), and we lit candles and gave C presents during Hanukkah. But on a day-to-day basis, we haven't been particularly Jew-ish. 
What I love about being Jewish is the sense of continuity and community it propagates and the set of values that we share as we share time-honored customs and traditions. I guess that is a fancy was of saying that being Jewish is cool, and I want Colin to feel the same way.
I know I have time to address this, since our days consist primarily of scooting across the floor, singing silly songs, drinking milk, going for walks and attempting to ingest solid food. But nevertheless, I think that starting early can never hurt.
The first and easiest thing I did was hop onto Amazon and order a set of inexpensive candlesticks. Colin certainly doesn't even know what day it is, much less when it's Shabbat or otherwise. But starting to light candles now will hopefully mean that by the time he can ask, "why?" and understand the concept of Shabbat as a day of rest and quality time as a family, it will have become a regular weekly habit.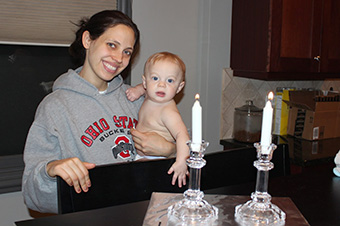 The other big news on the Jew-ish front for the Friedman family is a class we enrolled in called Zemer Emet. It meets at a local synagogue that is only four blocks from our house, which is super convenient. It's a music class for kids under three, and we sing all sorts of traditional and not-so-traditional songs in Hebrew and English (and by not-so-traditional, I mean Head Shoulders Knees and Toes in Hebrew - yikes! I'm glad the words are written on the marker board because I wouldn't have a clue otherwise).
I like exposing Colin to Hebrew songs at a young age, and hopefully as we learn some of them better, we can sing them at home too. This class has been really cute, because most of the kids are older, and Colin sits and watches them with such curiosity. While he gums the musical instruments as the other kids play them, it's a great preview for me to see what having an older kiddo will be like. 
Colin dressed all fancy for his first time at Temple for class
Also, this week's class reminded me that we have Tu B'Shvat coming up. While I may or may not have forgotten prior to class that this holiday existed (Happy birthday, trees…sorry I forgot about you.), it was a great reminder. 
Around the same time, I got an email about a family program called Jammin' with the Trees, sponsored by PJ Library. So on Sunday, February 3, we're going to visit the Garfield Park Conservatory, reconnect with nature and wish all the trees a happy birthday with a ton of other young Jewish kids. (PJ Library is a program that sends free monthly books to Jewish kids under the age of five…which is awesome! If you have or know a child who should be receiving these books and isn't, it's easy to sign up - just click here.)
Down the road, I'd love to try bringing him to a "Tot Shabbat" program and getting him involved in TOV's Hands on Heroes program for volunteering with little kids. But so far, we're off to a great start!