Permanent link
All Posts
01/07/2013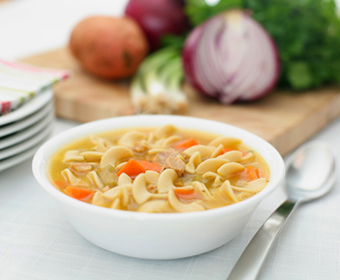 "Worries go down better with soup than without."
(A Jewish proverb)
I love winter's crisp, cold air and the way the sunlight casts shadows. I enjoy the long dark nights and I especially love to cook during the winter months. I hunker down in my kitchens and bring long cooked soups and stews together with aromatic herbs, dried mushrooms and root vegetables.
I notice my customer's habits changing as well. Suddenly everyone is actually hungry. Summers dainty and delicate appetites are replaced with something a bit heartier. I really look forward to soups, making them and eating them. They remind me of my favorite sweater taken out from summer storage, cozy and familiar, like an old friend.
I teach cooking classes all over the country and am often asked how to make the perfect chicken soup and about the differences between broth and stock.
Here are some definitions.
Stock--is a liquid base from which soups and sauces are made. Stock is made by simmering bones and sometimes meat with mirepoix (aromatic vegetables) and herbs and spices.
Broth--is an already flavored stock or water with vegetables and sometimes starch added to make it more substantial. Many prepared stocks contain flavor enhancers.
Bouillon--In French means broth, it is broth simmered with vegetables, herbs, and sometimes meat or poultry.
Bouillon cubes--are made by dehydrating vegetables, meat stock, a small portion of fat, salt, and seasonings and shaping them into a small cube. Dehydrated broth is also available in granular form. Bouillon cubes are convenient but have little nutritive value since they mostly contain flavor enhancers from monosodium glutamate or yeast extract.
Stock is the backbone of every delicious soup. Sure, you can make a soup with water or canned broth, but you will not have the richness of flavor and mouth feel. As a professional chef and mother of three, I like to make my own stocks not only for reasons of attaining superior flavor, but also I like to know what exactly is in my soup. Every ingredient in the soup is in my control and I know that when I serve my family and clients, I am giving them a delicious and nutritious gift from my heart.
I make soup with a technique called Ad Hoc cooking. It means "for this." What I mean by ad hoc is that I start out with the intent to make a great soup. Each ingredient is thought out and has a purpose. Many people make soup with "a little of this and a little of that" mentality. While you will end with soup, it will not have a defined flavor and texture. I tell my staff that soup should be made just as carefully as a sauce or braised dish. That means technique as well as love goes into the pot! I do not throw leftovers into a pot hoping for a great end-product. I start with carefully chosen ingredients and then add some touches usually in the form of garnishes.
Winter is in the air and it is comfort food season. There is nothing more comforting than a big bowl of delicious soup. Like a great book or your favorite dining companions, Chicken soup is complete on its own. You do not need much else. It is the ultimate dish.
The 12th-century rabbi and physician Maimonides touted the benefits of chicken soup to one's health. Many other cultures also believe in the restorative properties of chicken soup and it turns out that it indeed may be good for you. Poultry fat has monounsaturated fatty acid palmitoleic acid which boosts our immune system. Chicken fat has the most of this healthful fat and what has instinctively been understood by many cultures around the world can now be backed up by science; chicken soup will cure what ails you!
"Whoopee once, whoopee twice, whoopee chicken soup with rice." 
Maurice Sendak--author of "Chicken Soup with Rice"
Chicken soup is popular among many cultures and during my class "Everybody Loves Chicken Soup" we will make, explore, and taste some versions of the classic comfort dish from around the globe.
Here is my favorite chicken stock recipe.
There are only two things to remember when making chicken soup:
1. The World's Greatest Chicken Soup is made from chicken. Chicken bones, that is. The bones have all of the gelatin and collagen in them. There is no need to boil away a chicken--all you will have is "chickeny" water. Have your butcher set aside bones for you in the freezer or learn to cut your own whole chickens and save the bones.
2. Chicken soup does not come from a can, a carton, or bouillon cubes. It takes chicken bones to make a rich, flavorful, and heartwarming stock that you can turn into soup.
World's Best Chicken Soup
Yields: 4 quarts rich stock
4 pounds of chicken bones (wings, carcasses, necks etc…)
Approximately 12 cups of water
1 large Spanish onion, chopped
3 large carrots, chopped
3 celery ribs, chopped
3 sprigs of fresh thyme
5 parsley sprigs
1 bay leaf
1 whole clove
1 teaspoon of whole black peppercorns
(Do not add salt at this point. The stock will reduce as part of the natural simmering process and salting it can make it overly salty.)
Place all the ingredients in a large stock pot and fill with water only to the level of the bones and vegetables (this will guarantee a rich, not watery stock).
Place the stockpot (uncovered) over medium heat and bring to a simmer.
Skim off any scum that floats to the top. The scum will make your soup cloudy and bitter. Continue simmering for 4 hours. Turn off the heat and allow the chicken stock to steep.
Strain out the bones and vegetables and discard. Cool the stock, in your stock pot in a sink filled with cold water and ice, ompletely before storing covered in the refrigerator or freezer. Ladle off the fat from the top of the stock before using.
Stock may be stored, covered, in the freezer for up to three months or in the refrigerator for up to 5 days.
From stock into soup
1 pound white or dark chicken meat, cut into small cubes
½ cup thinly sliced celery
½ cup thinly sliced peeled celery root
½ cup thinly sliced carrots
½ cup thinly sliced parsnips
½ pound wide egg noodles
¼ cup chopped fresh parsley
Salt and White pepper to taste
1. Bring chicken stock to a simmer in a large saucepan or stock pot. Add the ingredients. Adjust seasoning to taste.
Want more chicken soup recipes or want to see the process of making the best ever chicken soup? Come to "Everybody Loves Chicken Soup" on Wednesday, Jan. 23, at Spertus at 6:30 p.m. Visit www.spertus.edu for more information.