Permanent link
All Posts
12/07/2012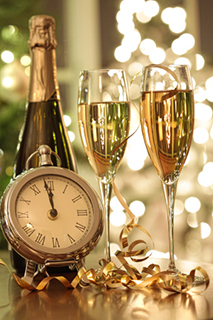 Ah, the holiday season is upon us once more! Some will imbibe on eggnog, others will be sipping fine wine. Whether it's an office party or a prepaid bonanza, the drinks will definitely be a-flowing. But if you're looking to try something other than the usual beer or sparkling wine, consider stepping outside the box and joining me on a trip to experience some of Chicago's best cocktails! 
While some consider these to be the last days of our entire existence, the majority of people will still be looking for the party (and cocktail) to party their way into 2013. So, as this year draws to a close, let's take a look back at some killer cocktails and where the best places are in the city to find them! 
Cocktail - Fizz/Flip.
Best Destination - Union Sushi & BBQ
For those of you that have checked out this modern Asian eatery for its fabulous sushi and robata grill, you have to go back to see my good friend Adam Staniszeski behind the upstairs bar and author of the newest cocktail on the list (and one of my favorites). A must-try, this version of a historically valuable cocktail recipe called a fizz - a cocktail with egg white - really brings out the flavors of the season. Adam's versions are really creative, so go during happy hour after work one week and you won't regret it. If anything, you'll have great company and an even better drinking experience. Tell Adam that Ari sent you!
Cocktail - Artisan.
Best Destination - The Violet Hour
I have been talking a big game about this place for a long time, and after about six years of infrequent visits, the libations have only gotten better and better. Besides having a chic entrance and some very unique interior decor, this establishment does not disappoint. Their newest installment consists of an earl grey infused London Dry Gin and some lemon acidity, delicately balanced with orange marmalade. Juliet and Romeo, their long-standing king of all cocktails, is worth the trip - and possibly the wait, too.
Cocktail - Classic.
Best Destination - The Drawing Room
While my mentor and good friend Charles Joly has departed The Drawing Room for a prestigious role at Achatz's The Aviary, you will not be disappointed by those he's trained and left behind. It's a wonderfully quaint, boutique style bar with lounges and classic cocktails. Ask for Sergio or Cristiana and they'll lay it all out for you. If I were you, I'd go for the simple yet classical Manhattan or Hemingway Daiquiri, or be dazzled by the multi-layered flavor of Sergio's Caribbean Queen, one I intend to taste test myself. I'm sure I'll be heading there soon myself to remind myself why I loved bartending and creative cocktails so much.
Cocktail - Beer.
Best Destination - Emporium Arcade Bar
Yes, you can pretty much get good beer almost anywhere you go in the city, including your local liquor store, due to the rise of artisan libations and the growing national popularity of companies like Two Brothers Brewery and Goose Island Beer Company. However, there are one or two shining gems that must be acknowledged for their expert selections of brewski on tap. The first may come as a surprise to some, but the newly established Emporium Arcade, known for its vast selection of retro arcade games, actually boasts a killer lineup of beers. My favorites are the Woodchuck Private Reserve, the Lexington Kentucky Bourbon Barrel Ale, and for those just looking for a good ol' classic and reliable brew, PBR.
Cocktail - Wine.
Best Destination - Pops for Champagne, DOC Wine Bar, Di Sotto Enoteca, Vera, Webster Wine Bar
Wine is not much different than beer in the city, thanks in most part to the growing restaurant industry in Chicago and the rise of regional and local artisan companies that offer eclectic, unique flavor profiles and even more interesting names. In my opinion, each of the places I mentioned above are beyond comparison when it comes to selection and quality. You can take friends or a date to any of these wonderful, cozy, and exciting places to whet your whistle and savor the flavor.
So cheers to you, Oy!sters, see you in 2013!! L'Chaim!