Permanent link
All Posts
10/30/2012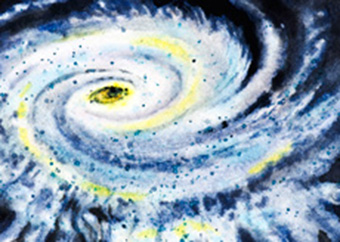 In the midst of Hurricane Sandy, in Brooklyn
It is, of course, true
that we, humble and powerful, witty and nimble,
are servants to nature,
must bow at its beck and call,
must recognize that it rises against us.
Within our four walls, we house ourselves,
but it is always nature that looks on in,
and blows our skirt to the right or left,
or downs our power.
Who needs nature, we laugh, as the reports come in: Big hurricane, headed your way,
and we know exactly when it will strike and we have no need for fear.
Until the moment comes closer, we sit, more seriously now, aware that this could be it.
As the winds howl louder and louder,
our minds get more focused, we sit together closer, we talk quietly,
and recognize in the bizarre calm of the moment, how united we actually are,
how close we actually are.
All of those anxieties, those stresses, those deadlines,
where did they go?
We cannot remember for the life of us, as we ponder the life of us,
why that seemed so important to us
as if those things were more powerful than "Nature," than "Us."
Our minds find unexpected comic relief in finally feeling focused, as the lights flicker, teasingly.
With one thought, our brains unite: Save us now, save us. We will do anything. We are but flesh and blood. And spirit.
As we acknowledge, at last, the nature that hangs over us, we call out to that which gives nature its naughty and merciful power.
Save us now.
One mind, one heart,
one.
At last.