Permanent link
All Posts
10/15/2012
Creative crock pot recipes. Inspirational quotes and nursery decoration ideas. A window in on what friends have in mind for their weddings. Helpful housekeeping hints, fabulous fashion finds and a hundred of the best ways to hang a photo collage on the wall.
Pinterest has wormed its way into my life, and when I start surfing the postings and pinning, it's amazing how minutes can turn into hours. Next thing you know, it is way past my bedtime (and yes, I have a bedtime. It's as early as I can convince myself to fall asleep, so I can be rested if my lovely baby decides to be less lovely than usual and wake up in the middle of the night for God knows what reason).
Inspired by Pinterest, I've done so many exciting things. I've taught myself how to make a pinwheel mobile. I've made chicken fajitas in my crock pot. I covered my head phones like a string bracelet, so they'd stop getting so darn tangled. I've made fabulous decorations for my son's bris and a scarf out of old t-shirts. I have parenting strategies pinned regarding everything from potty training to science projects to healthy snack habits, and my son is not even five months old.
And therein lies the rub. Whether you're pinning as a new mom, a bride-to-be, a future homeowner or a curious and crafty person, the ideas posted to Pinterest are oftentimes a bit more aspirational than inspirational.
It's not likely that I'll ever be lucky enough to have a built-in dog house underneath my staircase in my family home, I'll probably never have the time to turn my future toddler's lunch into a bento box art project, and Colin's first birthday party will probably not look like it belongs in a magazine photo shoot. Most people don't live their lives dressed like models, in perfectly decorated homes, or eating creative and gourmet-inspired dishes each night. And most moms aren't crazy enough to take weekly photos of their squirmy babies in front of the same backdrop (although as of week 20, I'm still trying).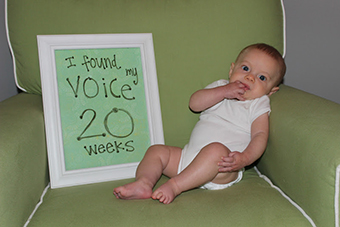 Can't we just shop at the mall, decorate with whatever cute cheap stuff we can find at IKEA, and be proud of ourselves if we make a home-cooked meal once or twice a week that's edible and relatively healthy?
Yes, there are great suggestions for simplifying your life on there too, and yes, as a crafty gal myself, I love seeing the fun ideas other people have time and resources to tackle, but oy, is my Pinterest obsession giving me unrealistic expectations of what my real life should look like? In a world with Pinterest and hundreds of blogs that connect to the pins with all sorts of crazy and creative ideas, are our expectations being warped?