Permanent link
All Posts
04/26/2012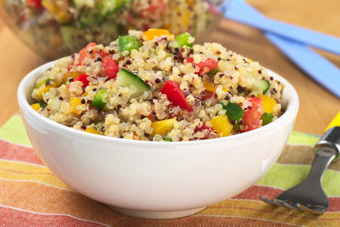 If you want a shock, Google your favorite Chinese or Thai recipe. The calories, fat and sodium are usually ridiculously high. As most would expect fried rice is not a health food. I created a similar taste with a drop of oil and a lot of flavor. Hope you enjoy!
I love this recipe it has a lot of protein, flavor, and fiber.
Sesame ginger quinoa almond chicken
2 chicken breasts (boneless skinless)
1 cup quinoa
2 cups low sodium chicken broth
Toasted sesame seed oil
Veggies: medium sweet onion, ½ cauliflower, medium zucchini
Almonds
Agave nectar
Goat cheese
Spices: ginger, curry, pepper, kosher salt, garlic
Sesame ginger marinade (I like Ginger Company)

There are a million variations of this recipe I think the easiest way to make it is:
1. Marinade chicken with garlic powder, ginger and sesame ginger marinade (let sit while you start steps 1-3)
2. Pan fry onion in a large skillet with a drop of sesame oil, add cauliflower, and zucchini (you can also steam the zucchini and cauliflower)
3. While veggies cook pour chicken broth and quinoa in a pot and simmer for 15-20 minutes
4. Remove veggies, cook chicken on medium heat 6-8 minutes per side (until completely cooked), add a drop of all spices on chicken (you should not have to add any oil, the juices from the veggies and marinade on the chicken provide enough sauce for cooking)
5. Take out chicken, let cool, then cut, add another drop of sesame oil, almonds (smash them first in a baggie with a mallet), lightly pour agave nectar over almonds, a pinch of salt, add quinoa, mix, add veggies, pepper, ginger, kosher salt, add chicken back in
6. Serve in bowls, add a small crumble of goat cheese
Try the recipe, and shoot me a picture of it!