Permanent link
All Posts
04/24/2012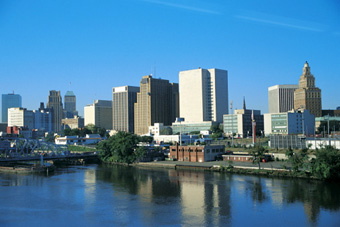 Jersey Shore. Jersey Couture. Jerseylicious. Real Housewives of New Jersey. House. Aqua Teen Hunger Force. Even Boardwalk Empire is about the early days of Atlantic City, New Jersey. Ever since The Sopranos (which debuted in 1999), New Jersey has been a goldmine for TV shows… and ratings.
Put another way… my friend has a pre-teen daughter who wants to go to Hoboken for winter break. Why? To see the Cake Boss bakery, of course.
This glut of TV shows set in New Jersey is new. Before 2000, Jersey Shore was preceded by two MTV shows, Shore Thing and Summer Share, the latter debuting in 1998. And that was preceded by Down the Shore as early as 1992. On the non-reality end, 1984's Charles in Charge— which starred Scott Baio as a nanny (like Tony Danza in Who's the Boss, which debuted in the same year) was set in New Jersey… as was Tony Danza's Hudson Street.
But isn't Chicago just as interesting, just as filled with memorable types as New Jersey? Right now, The Good Wife and Boss are set here, both critically acclaimed shows. And there's, um, Happy Endings, Whitney, My Boys, Legally Mad, and the aptly titled The Forgotten. The longest-running Chicago show in the past 10 years? According to Jim.
There have been classic shows set here, after all— the first being The Untouchables (1959-63). In the 1970s, there were The Bob Newhart Show, Good Times, and the under-rated Kolchak the Night Stalker, which Buffy fans should revisit. The 1980s gave us the adorable Perfect Strangers and Punky Brewster, the too-adorable Webster, the moving Life Goes On, and the well, popular Married… With Children. That show, I never liked (it seemed like just a crasser Roseanne), but it did give us Futurama's Katy Sagal and Modern Family's Ed O'Neill.
The 1990s brought in Family Matters but also The Steve Harvey Show and Early Edition. Drama-wise, there were two very good medical shows that started in 1994, Chicago Hope and ER… and Sisters, which I think was better than Brothers and Sisters.
These days, Chicago could— should!— easily have as much screen time as, excuse me, New Jersey. So here are my proposals for TV shows set in Chicago. You'll notice that none of them are cop, lawyer, or doctor shows, either… because there are other things people do! [TV execs: if you use these, I want a royalty and a "created by" credit]:
The Daddy Files (comedy): A middle-aged, Royko-style columnist for a Chicago daily is fired. He tries to make a go of it as a blogger taking on government and business corruption, while also being a stay-at-home dad. At night, he blogs his gripes about being a dad, and this blog takes off.
Navy Pier (comedy): Shot with hand-held cameras, the intertwining lives and loves of a dozen twenty-somethings who work at various kiosks, stores, restaurants, and theaters at Navy Pier.
The Randee Simmons Show (comedy): Randee is a talk show host trying to change her show's tone from sleeze to life-affirmation… against the wishes of her producer, agent, and studio head, all of whom like her current high ratings.
I Must Love Stress (comedy): A general contractor tries to manage his crew and satisfy his clients, while dealing with the weather, his suppliers, and ever-changing regulations.
The Exchange (drama): A workplace drama set at the Chicago Stock Exchange. We see two rival brokerage firms and follow two young, ambitious traders as they make their ways up, and also the two CEOs and the huge decisions they must make.
Chicago Blues (drama): An old blues bass player makes the rounds of the blues clubs, always hustling for gigs. Along the way, he sits in with some of the greatest (real-life) names in blues as they come through Chicago. We also see the (former) Blues Festival from behind the scenes as he plays gigs for three straight days and nights.
Busiest in the World (drama): A mom finds it harder to manage her out-of-control teens, kids and husband than O'Hare Airport… the management of which happens to be her job.
Deep Dish (reality): The day-to-day function of a local, family-run pizza place, from the guy who hangs flyers on doorknobs, the delivery guys and the kitchen staff to the management.
First to a Million (reality): Two teams. One is made up of fresh college graduates. The other is all retirees. Each team of four has specialists in finance, marketing, IT, and administration. They are given seed money, computers, a basic office, and someone to handle the front desk. Then they race to start businesses from scratch. First team to clear a million dollars in profits wins.
Windy City Rollers (reality): We follow Chicago's female roller-derby team, at competitions and at home.
The Taste (reality): How The Taste of Chicago happens. We follow the organizers, a couple of participating restaurant managers, and the Park District crews as it all comes together.
Chicago has unlimited potential as a setting for television shows. By focusing on what's unique to our city, we can tell stories here that simply can't be told anywhere else. Even in New Jersey.