Permanent link
All Posts
03/15/2012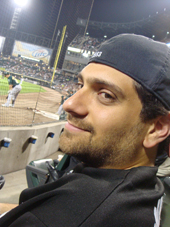 Over the last three years The Great Rabbino has been giving you the Jewish NCAA Bracket. In the first year I brought you a winner—Duke and Cornell helped produce those results. Last year I was in the middle of the pack. I used various methods from Jewish numbering, players, and Hillel sizes. But this year I tried a different method—I reached out to four rabbis, each with a connection to the tournament regions. Each region was decided by the individual rabbi and then I picked the Final Four matchups and champion. Below you'll find a brief reason why each rabbi was chosen and their respective brackets. Here's hoping that five rabbis can summon God and help you with your bracket.
Rabbi Jeremy Yoskowitz - Duke Hillel Rabbi. Duke is the #2 seed in the South Region.
Rabbi Efrem Reis - Last time MSU won it, it had a lot to do with Flint. Rabbi Reis was born in Flint.
Rabbi Erez Sherman - Rabbi Sherman was raised in Syracuse and they are the #1 seed.
Rabbi Ari Kaiman - Rabbi Kaiman is a rabbi in St. Louis that serves as host of the Midwest Region.
SOUTH - Rabbi Jeremy Yoskowitz
Round 1 - Kentucky, Iowa State, VCU, Indiana, Baylor, UNLV, Xavier, Duke
Round 2 - Kentucky, VCU, Baylor, Duke
Sweet Sixteen - Kentucky, Duke
Elite Eight - Kentucky
WEST - Rabbi Efrem Reis
Round 1 - Michigan State, Memphis, New Mexico, Louisville, Colorado State, Marquette, Virginia, Missouri
Round 2 - Michigan State, Louisville, Marquette, Missouri
Sweet Sixteen - Michigan State, Marquette
Elite Eight - Michigan State
EAST - Rabbi Erez Sherman
Round 1 - Syracuse, Kansas State, Vanderbilt, Wisconsin, Texas, Florida State, West Virginia, Ohio State
Round 2 - Syracuse, Vanderbilt, Florida State, West Virginia
Sweet Sixteen - Syracuse, Florida State
Elite Eight - Syracuse
MIDWEST - Rabbi Ari Kaiman
Round 1 - North Carolina, Creighton, Temple, Ohio, San Diego State, Belmont, Saint Mary's, Kansas
Round 2 - North Carolina, Temple, San Diego State, Kansas
Sweet Sixteen - North Carolina, Kansas
Elite Eight - North Carolina
FINAL FOUR - Rabbi Jeremy Fine
Given all #1 seeds (thanks Rabbis for being creative) here are the TGR Picks
Michigan State over Kentucky
North Carolina over Syracuse
North Carolina over Michigan State