Permanent link
All Posts
03/13/2012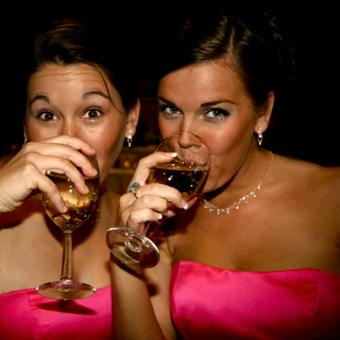 I found myself deep-sighing on the phone with my sister recently about some of the annual inevitabilities of spring—namely moving season and wedding season.
"Spring is a real yay-boo," my sister said.
To which I responded, "Is that a real phrase, 'yay-boo'?"  Honestly, she kind of nailed it.
Only a day after setting the clocks back, I gleefully pulled down my sun visor during my car ride home from work. Soon, I will uncover my pedal pushers (as my mom likes to call them) from the dark depths of my dresser. I will dust off my heavy duty sunglasses. I will make the dramatic switch-over from my hot Starbucks Grande Americano, to my Starbucks Iced Grande Americano—my true marker of spring. My neighborhood Scooter's Frozen Custard shop just opened, and soon all will be right in the world.
With chirping birds and iced caffeinated beverages comes yet another "spring awakening": The wedding save-the-dates on my refrigerator no longer announce events a year away.
The minute you say "I do" to your BFF, she owns you.
On one hand, you wanted to be "owned." It's like the ultimate first pick in elementary school dodge ball. "She likes me, she really likes me!" It's a huge honor when a friend asks you to be a bridesmaid and it's flattering to receive the bridesmaid proposal. It means your friend values you enough to have you share real estate at her wedding alter. She wants you to be in her photos that she's going to show her grandchildren. She wants you there on the ground floor for one of the biggest days of her life. She also trusts you to be there to help put out fires.
The BFF "I do" also comes with its challenges. If movies such as 27 Dresses and Bridesmaids have taught us anything, bridesmaids need to be supportive and they also need to do their best not to wreck the wedding. Let's face it, the bridal party consists of a group of women preparing for an emotionally charged event and their personal issues are inevitably going to surface. Whether these ladies are already married or bride hopefuls, they have some strong opinions about how every aspect of the festivities should go down. A friend and future bride who fears turning into a bride-zilla often jokes in her emails to the bridesmaids, "I still want us to be friends after the wedding."
Every bride and bridal party will have their own personalities, peculiarities and triggers, from demanding hand-dyed shoes and spray tans, to passive-aggressively tearing each other apart throughout the festivities leading up to the wedding. Some men think the movies dramatize these events—sometimes they're accurate. I have a few pointers for surviving bridesmaid-dom.
A Bridesmaid's Survival Guide: How not to turn into Kristen Wiig in Bridesmaids
'Say yes' to the Bridesmaid Dress
The dress might be frog-green, with ruffles and sequins, but wear the dreadful dress. If she asks, wear the halter straps, strapless dress or sleeves. Many modern brides are letting bridesmaids pick the style if they all adhere to the same color and fabric. You can live with anything for one day. The bride has been dreaming of this day since she was 5 and this is how she envisioned you would look. Assume the attitude of a child preparing for an ice skating recital. Put on the costume and smile as you glide down the aisle.
Hopefully your bride doesn't have a side agenda to make all the bridesmaids uglier than she. I personally think this is a bit of an urban myth. Most brides want their bridesmaids to look attractive, so the entire wedding is beautiful.
What to Expect with the Dress
The dress will be too expensive. Bridal-wear is often sized down, so you'll have the added ego-booster of having to buy a dressing that is two- to three-times larger than what you normally wear. Expect you will also have to spend about half the cost of the dress in alterations. It's the most expensive dress you'll never wear again.
Play Nice and Drink Up
While the maid of honor often plans the bachelorette party, bridesmaids can find themselves tasked with planning the party instead. For the bride, this ladies' night really is a special "last night out" with some of her closest friends. That's not to say brides don't have ladies' nights after they get married, but it's a special and symbolic night for the bride.
This night can also be a significant and memorable night for all the attendees—a last hurrah with the soon-to-be-attached bride. Don't let tiffs between bridesmaids get in the way. The happiest group is one where everyone feels like they have a say. And, account for everyone's budgetary limitations.
Cha-ching
No matter what, the wedding will cost you. Whether you're attending a local wedding or traveling for the wedding, at the very least, account for a dress, shoes, shower gift, bachelorette gift and wedding gift.
Don't Get Caught Up in BFF Drama
Avoid comparing your relationship to the bride with the other ladies in the bridal party. You're part of the party because the bride cares about you. She's not sitting and measuring you against her other bridesmaids—so you shouldn't either. The best thing you can do for yourself and the bride is to be there to support her. You'd want the same if you were getting married. Don't pull a Kristen Wiig!
Be Prepared
In events leading up to the wedding and on the wedding day, be prepared to wear many emergency hats including therapist, counselor, problem solver, tailor, medic and more. Be prepared for bride nervous breakdowns, bridesmaid meltdowns, sick and drunk relatives, emergency stains and tears on dresses, family fights and more. Bring an emergency kit with band aids, nail polish remover, extra makeup, chocolate and booze.
I went to a wedding in Denver, in which a bear wound up in the parking lot and guests couldn't leave. Anything is possible.
Don't Have a Date? Don't Worry
Groomsmen. Enough said.