Permanent link
All Posts
03/05/2012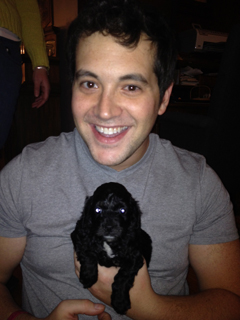 A healthy cockapoo was born December 22, 2011, from a lively poodle dad named Dino— who could smile on command— and a sweet mother named Ginger. We had no idea how we were going to choose him from the litter or if he was going to choose us. It was nerve-wracking, to say the least. This was a life-changing decision, and we were scared and uncertain of how the future was going to unravel, now that we were about to welcome a little male puppy into our lives. We had chosen to name him Rebbe Kain Silver, which most of you already know is Yiddish for rabbi, so he was going to be as Jewish as possible. Of course, we tossed around a bunch of different names, including Shlomo, but Rebbe seemed to stick when we were introduced to him. But we shouldn't have worried; we saw many wonderful qualities right away that we fell in love with: he was approachable, friendly, full of life and love, and a great listener, like any successful rabbi. We could look into his beautiful blue puppy eyes and see the wonders of the world swirling about, like the waves of the ocean.
Our lives were about to change forever: we were bringing a rabbi into our home! He was just under seven weeks when my girlfriend Ashley brought him back home. We had no idea what to expect, but we both kind of liked it. We were masters of our domain now. We decide how to raise him, how to care for him, and how to enjoy every minute with him. As any good parent does, both of us were wondering how we were going to train him, what toys to give him, what food and when to feed him, and how to discipline him when he misbehaves.
My uncle Steve, a psychiatrist, wrote a wonderfully insightful blog that takes a look at how animals as pets can be very rehabilitative for humans and covers a range of therapeutic issues (I'm pretty sure Ashley and I are the "couple" he mentions). It really got my girlfriend and me thinking about how Rebbe was going to affect us, our relationship, and our own well-being. Since neither of us were raised with pets, we were not familiar with what it's like to live with a pet, let alone take care of one. We knew that we were going to be making sacrifices, that he was going to try our patience and vie for our attention at every turn, but most importantly, he was going to love us, and we were going to love him.
We excitedly brought him into our home on that cool Sunday evening. Ashley says he slept most of the car ride, a rarity with puppies, so we knew right away he was going to be just fine. By the time I had arrived from out of town, Ashley had already picked him up and went with him to meet me at the airport. He couldn't be more excited or more precious— slightly larger than the last time I saw him— and in a matter of moments I felt myself transforming from a 28-year-old graduate student and educator into a parent. And it felt great. I couldn't wait to take him home and play with him, shower him with love and share with Ashley the happiness that only families can experience and appreciate.
Before we were settled, we gathered around the mezzuzah outside our apartment and said the Shehecheyanu, to welcome our newest member into the family and our home. We looked upon him with loving eyes and reflected on how bright and exciting the future looks. And while he may not be given a neshamah— a soul— like we were by o-d, Rebbe's life and existence will be highly valued and cherished. We are a family, embarking on a new journey through life.
So cheers to the families out there, it is truly a blessing and a joy. L'Chaim!