Permanent link
All Posts
01/16/2012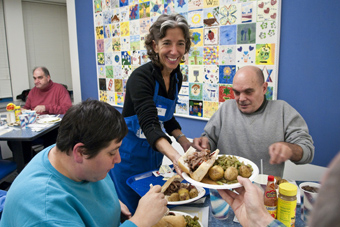 A couple of years ago I read the book 29 Gifts and I still think about the book to this day.
It's the true story of Cami Walker, a 30-something newlywed, diagnosed with multiple sclerosis, who was feeling sorry for herself. Amidst Walker's depression, a medicine woman recommends that Walker give away a gift each day for a month as a way to get outside of her own headspace. "By giving," the woman tells Walker, "you are focusing on what you have to offer others, inviting more abundance into your life."
Now that Chanukah is over, and the gift exchanging is too, it seems like the right time to "invite more abundance into your life" by finding ways to give back to the community. No matter what you give—a meal, a dollar, a smile, your time—there's someone out there who needs it more than you. Here's a list of nine ways to give back—in keeping with the Chanukah theme, that's one for every candle on the menorah—primarily through the Jewish United Fund/Jewish Federation of Metropolitan Chicago's network. How you choose to give is up to you; there's something for everyone on the list. Whatever you do, just give.
Serve a meal. 
The JUF's Uptown Cafe is classified as an anti-hunger program, but it looks like a neighborhood restaurant. Whatever you call it, don't call it a soup kitchen. The Uptown Cafe, the first large-scale kosher meal program of its kind, serves Jews and non-Jews alike three nights a week and brunch on Sundays. More than 8,500 volunteers have served up more than 135,000 meals plus community, respect, and dignity to people in need since the Cafe opened in doors in 1998. Housed in the Dina and Eli Field EZRA Multi-Service Center in the Uptown neighborhood of Chicago, the Cafe is sponsored and funded by JUF/JF and administered by the Jewish Community Center of Chicago (JCC). Volunteers ages 12 and over are welcome. For more information, call JUF's Tikkun Olam Volunteer (TOV) Network at (312) 357-4762 or e-mail: TOV@juf.org.
Give a can. 
The holidays are over, but people need basic items all year round. TOV runs ongoing collection drives for The ARK, Jewish Child and Family Services, the Dina and Eli Field EZRA Multi-Service Center, SHALVA, and CJE SeniorLife. Items needed include non-perishable food, toiletries, winter clothing, and toys. For specifics, visit www.juf.org/tov.
Talk to The Greatest Generation. 
The Greatest Generation, a label coined by journalist Tom Brokaw, describes the heroic generation that grew up during the Great Depression and went on to fight in World War II. They're incredible people with many years of wisdom and experience under their belts. My grandparents, who live in New York, and I have a phone date once a week to chat. There are also older folks right here in Chicago that you can visit and learn from. CJE SeniorLife, a JUF agency, assists older adults and their family members through healthcare, housing, community service, and education. For more information on volunteering with CJE SeniorLife, e-mail Anne Schuman at anne.schuman@cje.net.
Drop off a phone. 
Donate your old and used cell phones to someone affected by domestic violence. In conjunction with Winter Mitzvah Mania, TOV is collecting phones now through the end of February to donate to SHALVA, the oldest, independent Jewish domestic abuse agency in the United States, and a beneficiary of JUF. Since its founding in 1986, SHALVA has worked with more than 4,000 clients from every denomination of Judaism who seek assistance for domestic abuse, and the agency has helped debunk the stereotype that abuse doesn't happen in the Jewish community. For more information, visit www.shalvaonline.org. (Even if you miss TOV's collection drive, SHALVA collects phones on an ongoing basis.)
Play a game with an athlete. 
Work one-on-one with an athlete at a KEEN sports session this winter. KEEN is a national, non-profit organization offering recreational opportunities for children and young adults with mental and physical disabilities at no cost to the families or caregivers. KEEN aims to build self-esteem, confidence, skills, and talents to athletes through non-competitive activities. Volunteers must be age 12 or older. For more information, visit www.keenchicago.org/.
Use your skills. 
Use your skills from your day job to help people in need. For instance, makeup artist Eric Holt, featured in this month's issue of JUF News, teamed up this winter with TOV through American Cancer Society's "Look Good, Feel Better" program to do makeovers on Mount Sinai Hospital patients with cancer. (See p. 49 for full story.) For more information, call Yael Brunwasser at (312) 357-4978.
Take on a case. 
Are you a lawyer? If so, volunteer with JUF's Community Legal Services (JCLS). This program offers assistance to individuals and families in need of legal services with access to free and much needed help navigating the legal system. JCLS is staffed entirely by volunteer attorneys who generously donate hours of their time each year. The program provides legal assistance in civil law matters. Attorneys of all practice areas are encouraged to volunteer as Chicago Volunteer Legal Services (CVLS) will provide training and backup as appropriate. For more information, call Lindsay Yaffa at (312) 444-2833.
Give a smile. 
There was once this guy in Australia who gave out hugs to strangers at the mall to promote random acts of kindness. I don't recommend doing that because it could get you into trouble in all sorts of ways, but there are other random acts of kindness you can do to make someone's day. When Chicagoans walk around outside in the winter, they tend to look down at the sidewalk, walk fast, cover their eyes with their hats, and block out their surrounding senses with their smartphones. I get it—it's cold and we've got places to go, people to see. But, every once in a while, make eye contact with the people you're encountering on the streets or at the checkout of the grocery store. Maybe smile at the homeless man on the corner or, if you have an extra minute to spare, buy him a hot chocolate to warm him up.
Give through JUF. 
The JUF Annual Campaign serves the humanitarian needs of more than 300,000 Chicagoans of all faiths and two million Jews worldwide. Your gift means food on the table, jobs, emergency cash, medicine, and crisis counseling for tens of thousands of people in these hard, economic times. The 2011 JUF Annual Campaign closes on Tuesday, Jan. 17, so there's still time to make a difference in someone's life. To make your gift, call (312) 357-4805 or visit www.juf.org/donate.
For many more ways to give back this winter and all year round, visit JUF's website at www.juf.org and JUF's Tikkun Olam Volunteer (TOV) Network atwww.juf.org/tov.