Permanent link
All Posts
12/02/2011
Two summers ago, I wrote an Oy! post highlighting my summer reading plans. It's been awhile since then and I just got my latest obsession-the new Amazon Kindle Fire. Now if you remember my last post, I talked about how much I love reading BOOKS— my office at home is covered in bookshelves— and was never going to convert to an e-reader. Well, things change. People change. And my boyfriend bought me this amazing toy for my birthday in October and I'm a total convert.
I know I'm late to join the e-reader bandwagon, but since the Fire is so new, I feel like it's still ok to tell you all how cool it is and why you should get one, too.
The positives: Normally a loyal Mac girl, I had reservations about not choosing the iPad, but for a third of the price, I've got to say I'm pretty happy with my choice. Besides getting books instantly to my Kindle, this thing makes renting movies and TV shows a cinch— all it takes is a click and it's cheaper than On Demand and Netflix's! I can also browse the internet, create my own magazine pages and subscribe to my magazines on the Kindle. I can rent books free from the library, share readers with my friends and there is a 99 cent book of the day deal; so believe it or not, the Fire is actually saving me money!
The negative: I no longer can read on the El because I'm terrified I will either drop it, lose it or have it stolen. This seriously cuts into my reading time and makes it harder to get out of bed in the morning (a. because I stay up later reading and b. because I have nothing to look forward to on the commute to work).
Review done, here's my list of books to e-read by the fireplace (not the train) this winter. Feel free to make your own recommendations and post them at the bottom: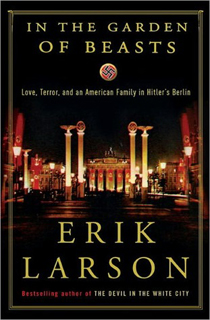 In the Garden of Beasts by Erik Larson— If you loved Devil in the White City, you need to read Larson's newest book about America's first ambassador to Nazi Germany, Chicagoan William E. Dodd and his family who in July 1933 find themselves living in the heart of Hitler's Berlin. This non-fiction book offers a fascinating and at times horrifying and frustrating account of the United States relationship with Nazi Germany leading up to World War II.
Unbroken by Laura Hillenbrad— Not to include two non-fictions books here about the same time period, but Hillenbrad's latest book, which took seven years to come out, is currently at the top of my reading list. I loved Seabiscuit and I can't wait to start Unbroken about an army air forces bomber who crashes into the Pacific Ocean during World War II.
Thank You, Notes by Jimmy Fallon— With YLD's Big Event only a few weeks away, I thought I'd check out this year's performer's latest book.
The Hunger Games by Suzanne Collins— If you haven't read this series yet, immediately stop what you are doing and go read them. I read each book in a day because you just can't put them down. The first movie is coming out in March and it promises to be a blockbuster, so make sure you read the book now. Check out the movie trailer. 
The Lady of the Rivers by Philippa Gregory— So last time, I told all you Oy!sters to read The Red Queen  the second book in Gregory's cousin's war series about Elizabeth Woodville and the Plantagenet family. Well, this is the third book in the trilogy— only it's a prequel to the first book instead of the concluding book I'd been waiting to read for over a year! Gregory explains on her website:
Whilst many of you (myself included) were expecting a book on Elizabeth of York called The White Princess to follow The Red Queen, gloriously, the research has taken me down a slightly altered path and so Jacquetta's book, currently called The Rivers Woman, will be released in autumn 2011.
I'm still going to read it and you should, too. On a positive note, this is now the first book in the series, so if you like historical fiction and haven't read her other books, you can still start here.
The Great Gatsby by F. Scott Fitzgerald— Last time I ended with a favorite classic, so I think I'll do the same thing this time around. Since the movie is coming out this spring, the timing feels right to re-read one of my all-time faves, The Great Gatsby. I already own a few versions (I'm a nerd) of the actual book, so for a classic I might have to return to the real thing and skip the Fire.