Permanent link
09/17/2013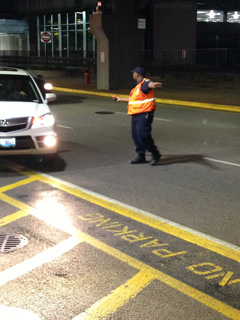 Every time I pick someone up from the airport, I get yelled at by a guy with an Orange Vest. But today, I dedicate this post to him — the unsung superhero of the airport.
I don't have much experience with airports other than Chicago's O'Hare International Airport (which means any time I go to any other airport, it is by definition nicer, less crowded, less busy, friendlier, and has nicer plants and better acoustics), but I assume they are similar. If you are not driving a bus, taxi, or limo, you follow a sign toward Arrivals and pull in to pick up your friend. In order for the system to work, you must pre-arrange with your passenger the exact pick-up vestibule, and then she must come outside with her bags a few minutes before you swiftly pull up to the right location, load the bags, and float away. And if you stay in the right lane near the curb longer than 45 seconds, you get Orange Vested.
"I'm sorry, my friend just had to get a drink of water … you know how those long flights are … he'll be right out!" HONK.
"No, no, I literally just got off the phone with him, he's coming right down the escalator." HONK HONK.
"PLEASE don't make me drive around the airport and back on the highway and then the tollway and up through Wisconsin and the Upper Peninsula!" ORANGE VESTED.
It's frustrating — nobody likes being honked at, yelled at, beeped at, and waved away. Especially when you've come such a long way to do someone a favor.
But a few weeks ago, when I was picking up a friend from O'Hare, the Traffic Control Freak must have been out sick — and right then and there, at midnight on a Friday night, the airport became a disaster.
Cars found their favorite vestibule, pulled up to the right lane, and put the car in park. Heck, they even put on the parking brake. Seeing no man with an Orange Vest, they breathed out a sigh of relief. They got out of their cars and enjoyed the beautiful smell of jet fuel.
The cars behind them pulled up to the vestibules at which their passengers stood but could only manage to stay in the middle lane. The cars in the right lane couldn't get back into moving traffic. The cars in the left lane crawled.
And there was I, stuck on the highway, barely moving. It might have been faster for my friend to roller skate home than to wait for me to get to Vestibule 3C.
All of a sudden — seemingly several hours later — cars began moving again. Drivers' smiles returned. Friends were reunited. And then an instant later, the frowns were back. The yelling resumed. The no stopping zone was back. Life was back to normal.
But I smiled. I knew what happened. The unsung airport hero with the Orange Vest was back. The Dark Knight of O'Hare had returned to save the day. And all was right again in the world.