Permanent link
09/14/2012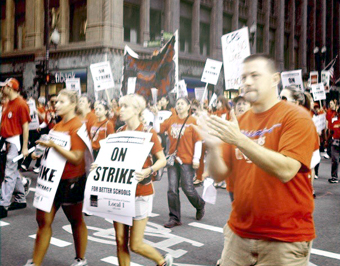 In case you have been living under a rock or not watching the news, schools have been closed amidst a debate between the Chicago Public School system and the Chicago Teacher's Union, displacing thousands of students across the city and affecting all types of students, families—and teachers.
As a recent Elementary Education Masters recipient and newly minted educator, I feel that I might have a few insights to offer about this situation, especially since I am a Jewish teacher in a private day school and unaffected by the strike. But I won't try to sound too political.
From my perspective, education is not a choice. It is a lifestyle. Let's not forget that we are inundated with learning from the moment we come into existence, our curiosity and our desire for self-exploration and self-discovery lead us eventually toward interacting with the world around us. It is unavoidable that we are constantly processing and analyzing everything and anyone we come into contact with. In primary school, students are always evolving, constantly growing and adapting. Whether they are in school learning about atoms or practicing taking good notes and learning how to organize a busy schedule and juggle multiple responsibilities—much like an adult—life is their lesson. School is just another setting for learning.
Life does not always choose us, but we must learn to prepare for life regardless; that is the ultimate aim of education, for all people and not just students.
Education is not information, it is inquiry. Education is not about high scores, it is about high personal achievement and growth. Education is not about getting the highest paid job, it is about finding out who you are and what you are capable of doing, and then using that knowledge to live life to its fullest. Education is a means, not an end. Education is a journey, not a destination.
How does the strike affect students? They are always learning, in every environment. When the school environment goes, much more than academic knowledge leaves the school grounds. With technology playing a monopolizing role in current academic and personal environments—constantly flooding students with multiple forms of stimuli and excluding them from real-life interactions—it is very easy to lose the value of adult role models and mastering interpersonal communication between students takes a lifetime to learn. There are no classes for teaching these life lessons to students, yet they are indeed learning them while in school.
Yes, children are losing out on their academic education and falling behind in many subjects as a result of the strike, making it more difficult for teachers and students to not only understand what is going on (and why), but how to move forward from this, because there will be an end at some point. My fear is that students will not learn how to get along in life. Has anyone stopped to think that perhaps students are benefitting from their education at school in more ways than academic?
It really is a tough situation for both sides, and I do hope and believe that a resolution will be made and that schools will reopen and life will go back to its routine. Will we have learned anything from it? Will students have found the 'time off' a welcome vacation or an annoying disturbance of their growth and maturity?
Regardless, we owe a debt of gratitude to those who stand on the front line of education, helping to mold the next generations into strong, capable citizens of the world. We all owe a lot to our teachers, whether we liked them all or not. So, let's raise a glass and acknowledge all the teachers we know: our unspoken role models, our ever-faithful supporters and nurturers, our fans and our companions.
L'Chaim!