Permanent link
08/29/2014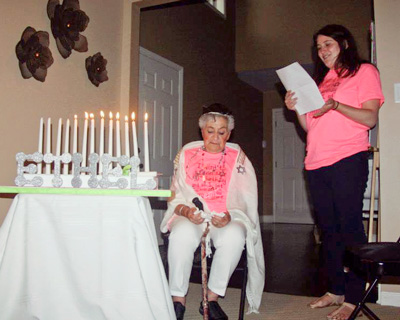 A few weeks ago, my wonderful, hilarious, sassy grandma reached the incredible milestone of 90. Nonee Ethel has always been an integral part in all of our lives, "our" referring to my sprawling extended family. Like most grandmas, she is infinitely special to us. As spring turned to summer and August 13 rapidly approached, the family got to planning a surprise birthday party no one would soon forget.
It started a few weeks after my sister returned from Birthright Israel. Regaling my grandmother with her experience of being bat mitzvah-ed on Masada, Nonee waxed poetic: she would have loved to both visit the Jewish homeland and to formally become a bat mitzvah, but didn't have the chance in her nearly 90 years. One thing led to another and before we knew it, we had a birthday theme.
Shortly, a family email chain of epic proportions began, and what started off as a funny idea tossed out as a possible party theme took on a life of its own.
A myriad of ideas were discussed, responsibilities delegated and pictures for a very special bat mitzvah montage were shared. Not only would there be a montage, but there would be a "trip to Israel," complete with "The Wailing Wall" (a display of the great-grandchildren's building blocks), "Masada" (a poster of the Birthright highlight placed fittingly atop a flight of stairs) and other little touches. We crafted the perfect candle-lighting ceremony, complete with speeches, and set up a little bimah to make it all "official." Everyone took to the project with so much creativity and love.
The day of, all of my aunts and cousins feverishly decorated the party house, making sure all of the creations and little touches were just so. We had some pretty fun birthday ideas to live up to from the past, after all. For example, we celebrated Nonee's 85th by renting a party van and transporting the crew to Superdawg, one of our favorite places. Anyway, as the clock struck a quarter to six, we all found a place to hide and prepared to surprise our most favorite 90-year-old lady in the world.
Needless to say, Nonee was incredibly touched by the Israel trip and subsequent bat mitzvah. We gathered together and said the shehecheyanu to really commemorate her special day. I especially enjoyed writing a candle-lighting speech just for her. How often is it that you get to share your feelings in such a way? How do you even begin to say how grateful you are for someone who has been such a big part of your life, a cheerleader present at every concert, play, you-name-it from the time I was born?
Thank you, Nonee. For leading the way, for sharing your love, advice, delicious baked goods and more. I hope you had fun at your 90th birthday and I hope you know just much you are loved and appreciated. Mazel tov!