Permanent link
07/29/2010
The idea was hatched one incredible day in May. "What if there was a party and all the invites were actually ransom notes?" And so the party planning began.
My accomplices and I had our first top secret meeting and formed the outline for a top secret ransom note party. We would steal from our friends, send them ransom notes, and make them bring various items (mostly things that make for a good party, like frozen pizza and Solo cups, but also random things, like toy soldiers, watercolors and Metamucil) to a party in exchange for their stuff back.
For the next month we went around thieving. We didn't take anything terribly important, but things people would probably want back, like a Wii remote cover, a framed photo, a stuffed animal, a sofa cushion, Duck Walk menus and the OC on DVD. We took things from ourselves to hide our tracks. Once enough items were secured, we sent everyone (including ourselves) ransom notes with cut out magazine letters. It went a little something like this: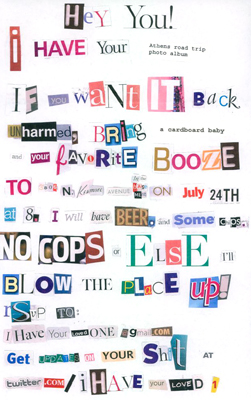 HEY YOU! I HAVE YOUR ATHENS ROAD TRIP PHOTO ALBUM. IF YOU WANT IT BACK UNHARMED, BRING A CARDBOARD BABY AND YOUR FAVORITE BOOZE TO 3806 N. KENMORE AVENUE IN THE BASEMENT ON JULY 24TH AT 8. I WILL HAVE BEER. AND SOME CHIPS. I'LL BLOW THE PLACE UP!
RSVP TO:  IHAVEYOURLOVEDONE@GMAIL.COM
GET UPDATES ON YOUR SHIT AT  TWITTER.COM/IHAVEYOURLOVED1
The day the notes were delivered we feverishly checked ihaveyourlovedone@gmail.com and twitter.com/ihaveyourloved1 for RSVPs. We got some great ones, like:
Unfortunately I will not be able to attend as I have a work commitment. If my loved one is Dan, please harm away… Also if you read your email as "I have your love done" instead of "I have your loved one" it makes you seem like a baker who makes heart shaped cakes.
and
I AM SORRY I CANNOT COME, KIDNAPPER. YOU CAN HAVE SUN CHIPS WHENEVER YOU LIKE, JUST STOP BY. WE CAN EAT THEM TOGETHER AND TALK ABOUT YELLING. AND YOUR GRAMMAR, MAYBE.
and
Unfortunately, I have a wedding that night so I don't think I'm going to make it. Also, nothing you can do to that sofa cushion is worse than what I've already done to it.
I had some gchat conversations with the ransomed, like:
Kari:  i'm just gonna tell you, sorry if i ruin the surprise
          someone took my doormat a few days ago, i was confused
          and then i got a letter addressed to me and dan
          and basically its being held ransom for a party in july
          i have to bring queso to get it back
and
Emily:  dude, did you get a letter in the mail?
me:      i get letters all the time
Emily:  emmy and i got this letter, it's like a ransom letter
            and they have my ceramic turtle, it's been missing for awhile
me:      kari was telling me something similar
Emily:  oh yeahh??
me:      doormat
Emily:  they have a twitter account and it said something about a doormat
I acted surprised and kept my knowledge and excitement under wraps. I had to remember what I had been told and what Kid Napper had been told because if someone asked if Scott was coming, I couldn't answer truthfully with, "No, he's going to his Grandma's 80th birthday party," because I, myself, did not know this information, but I, Kid Napper, knew all about it.
And then the accusations started rolling in. I was accused immediately, but kept placing the blame on other people. I'd say, "No, I didn't do this, but I wish I had. It's such a good idea! It seems a lot like something Steve would do. He's got a lot of time to kill during work." We took direct quotes from people's Facebook pages and posted them on Twitter. We tried tweeting in a way that didn't sound like us, which pretty much just involved TYPING IN ALL CAPS AND USING POOR GRAMMAR.
It was especially hard to lie to my roommate. We tell each other everything. She's pretty much my living breathing external hard drive. When I'd need to meet my fellow Kid Nappers for planning meetings I'd put on workout clothes and tell her I was going to the gym, but actually go to someone's apartment and come home at precisely the right time to make it look like I went to a class. I cleared the history on my internet browser after I used it each time. I couldn't have her borrowing my computer and seeing I was logged in to Twitter as ihaveyourloved1.
I was anxious all the time, but I also had uncontrollable fits of laughter at inappropriate times. I couldn't stop thinking about how we planned to have a chandelier fall from the ceiling when everyone got there and mannequins tied up with sacks over their heads and a tape recorder screaming "Help me! Help me!" and how we wanted one of us to dress in all black and wear a bunny head to hide their face.
On the ransom notes, we put the location as 3806 N. Kenmore Avenue, although we didn't know anyone that lived there. It's a weird creepy building we scoped out. In actuality we had no idea where to have the party and knew we'd be emailing a change in location, which we finally decided would be one of the Kid Nappers' places. His roommate was out of town and not everyone had been there before. The update went a little like this:
WE'VE BEEN RATTED ON. WE HAVE TO CHANGE THE SPOT. MEET ME IN WRIGLEYVILLE. ON SEMINARY UNDER THE TRAIN TRACKS. WE'LL BE DRESSED IN ALL BLACK. IN CASE YOU'RE A STUPID SHIT AND FORGOT, IT'S THIS SATURDAY AT 8 PM SHARP. NO SOONER NO LATER. GOT THAT ASSHOLES? COME ALONE. OR WITH FRIENDS. IF YOU'RE LATE THERE WILL BE A SIGN HANGING UP WITH FURTHER INSTRUCTIONS. JUST DON'T BE LATE AND YOU WON'T HAVE TO WORRY ABOUT IT. OR YOU CAN CALL 440-***-****. SEE YOU SOON BITCHES.
KID NAPPER
*This letter has been modified to protect the accused and be a little more R and a little less X.
The phone number was actually Steve's, who we had tried to blame earlier.
The day of the party finally arrived and I was so nervous. At 8pm sharp, no sooner, no later, we showed up under the train tracks. Us Kid Nappers also showed up, plain-clothed, and acting as normal ransomed folk. At 8:15pm sharp, our recruited fake kid nappers (who were friends of mine, but no one had met before) showed up carrying large sticks, dressed in black and wearing masks and wigs. They demeaned us and led us to the spot.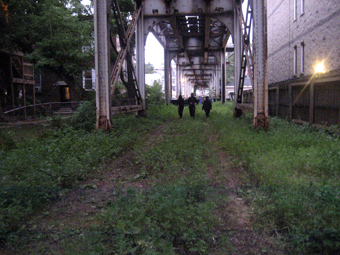 When we arrived, the truth finally came out, we confessed and the party commenced. It was totally amazing, naturally. I humbly think of it as "the party of the decade." Then the Rumple Minze came out and all memory of the evening began to fade but seeing my friends reunited with their loved ones and the mess that was left in the morning proved the evening a success.
GOT SHIT TO SAY TO ME? WANT HELP WITH YOUR PARTY? TOO BAD BECAUSE I DON'T CARE. BUT YOU CAN EMAIL ME ASSHOLES.  IHAVEYOURLOVEDONE@GMAIL.COM