Permanent link
The world's remotest Jews
07/09/2013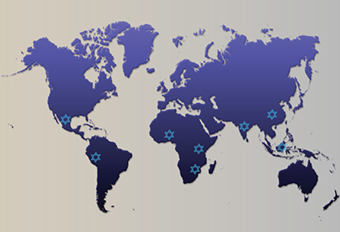 Earlier this year, Israel passed a milestone-there are now more Jews in Israel than anywhere else, even the US.
The other main pockets of Jewish life are Russia and the rest of its former satellite states, Europe (especially France), and South America (especially Argentina). And no one is surprised to hear of the Jewish presence in the rest of the English-speaking world— Canada, Australia, etc.
Of course, there are still Jews living in Arabic lands, as we are a Middle Eastern people from way (or more accurately, waaaaaaay) back. The American Jewish Joint Distribution Committee— JDC or "The Joint" for short— operates in 70-some countries, including Morocco, Tunisia, and Egypt. And it's no longer news, of course, that there is a Jewish community in Ethiopia.
But that doesn't mean that there still aren't even more Jewish communities tucked away in places you might never expect. I began learning about them years ago when I came across Kulanu (Hebrew for "all of us"), an organization that reaches out to remote Jewish communities worldwide. The article was about their contact with a spontaneously converted Jewish community in …
Uganda. Yes, the same place the British offered us instead of Israel. And the same place Israeli commandos rescued that hijacked plane full of Jews. In 1919, one of the local Ugandan leaders found a Bible left by a Christian missionary. He read it and did what it said to do— convert to Judaism. His name was Semei Kakungulu, and he called his followers the Abayudaya. Some know them from their distinctive music— imagine the Jewish prayers set to the music of Paul Simon's Graceland album. Here is their version of "Lecha Dodi." Other countries in Africa with Jewish communities include Ghana and Mozambique.
There are three countries in Asia with remarkable Jewish populations of their own. The world became aware of the one in Mumbai, sadly, after it was attacked by terrorists in 2008. Several cities in India are home to active Jewish communities.
As the South-Asian summarizes: "The earliest Jews came to India two thousand years ago, escaping persecution in Galilee. Some came after the destruction of the Second Temple in 70 CE. Sephardic Jews came to India from European nations such as Holland and Spain. The 16th and 17th century migrations created settlements of Jews from Persia, Afghanistan, and central Asia in northern India and Kashmir. In the 17th and 18th centuries, Jewish settlers came from the Middle East and North Africa. Jews settled in different areas: Kashmir in the north, Cochin in the south, Calcutta in the east and Mumbai (then "Bombay") in the west."
There is also a small but active Jewish community in Obama's old stomping ground, Indonesia… and two sizeable Jewish communities in China. One is fairly ancient, and it is centered in the town of Kaifeng (pronounced "kai-fung.") The other is more recent, comprised of Jews who fled the Nazis to Shanghai and their descendants. There are a few folks who refer to this community, naturally, as "Shang-Chai."
But the story of the Jews fleeing persecution is an old one. Jews during the Inquisition supported Columbus, and certainly followed the conquistadors to the so-called New World, landing in South America, especially Peru, in Mexico, and in the US Southwest. According to the book The Jewish Connection, a Spanish-Jewish sailor named Sergio Rodriguez pulled Columbus' landing craft ashore, thus becoming the first European to set foot on New World soil (unless you count the Viking theory).
The Inquisition Jews were outwardly Christian while maintaining Jewish practice in private (sometimes literally "going underground," as they performed Jewish rituals in basements and caves to avoid detection). These forcibly converted Jews were insultingly called "morranos" ("pigs") by the Spanish, but took the name Conversos for themselves. Centuries later, many formally re-adopted their ancestors' Jewish ways, saying things like, "My grandmother used to light two candles in the basement every Friday night, but I never knew why until now."
Whether fleeing persecution or poverty, we Jews have made our way into nearly every country on Earth, adopting some of the local ways and adapting others. We have at once been able to fit in and to stand apart, which has helped us survive as both people and as a people for thousands of years. The variety of Jewish experience is far beyond what most of us grew up knowing. That we have endured in so many remote locales, and under such harsh conditions, is amazing, but given our track record, perhaps not all that surprising.