Permanent link
07/28/2015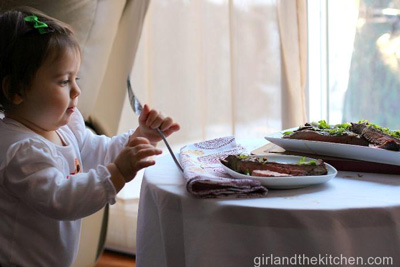 This is the munchkin, a.k.a. Charlie, back about 18 months ago when I first created this recipe. She snuck over and grabbed the over-sized fork just as I was about to snap the perfect shot.
Summer is here, despite the insanely cool weather we saw in Chi-town the first month of the season, so it's time to get the grills going! And there is no better way to break in the grill then with this scrumptious flank steak.
I first discovered this flavor at a cocktail party back when I worked in the city in my glorious early '20s. They had a carving station and were slicing this tender steak oh so very thin and its juices were flowing out with every motion of the knife.
When I placed a slice on my tongue, I noticed tangy, salty, sweet and savory all at the same time. It made my mouth water even as I was eating it -- and it caused me to "mmmmmmmmmmmmmmmm" out loud in front of some slightly uptight folk. They looked at me funny, raising their eyebrows and pursing their mouths … until they tasted the steak for themselves and let out the same sigh and loud "mmmmmm" I did. Conversation ensued.
That night I stopped by at the grocery store and bought the necessary ingredients for my version of the steak. They used flank steak, a difficult meat to deal with unless it is cooked and sliced properly. This meat, like many other cuts such as skirt steak and brisket, should be sliced AGAINST the grain.
Look at the pic below. The direction of the arrow is AGAINST the grain. And that is the direction that you will slice it after it is cooked. Make sure you have a nice, sharp knife!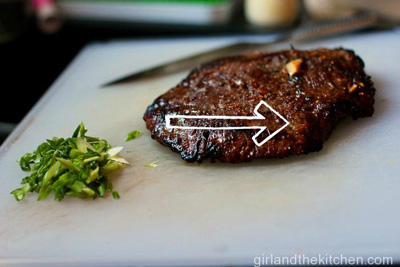 I also like to marinade these slightly fibrous cuts of meat. In my experience, it helps make them juicier and more succulent. Plus, with a soy sauce marinade (such as this one), you are creating almost a brine-like environment where the wonderful saltiness of the soy sauce permeates each muscle fiber leaving the flesh moist and flavorful. It's science really: a brine allows for osmosis to occur. All you need to know, however, is that your meat tastes awesome if it's brined. And that is precisely why when I make my roast turkey I brine it.
But back to the steak. It only takes a few ingredients that you probably already have in your pantry to make this steak go from ordinary to KA-POW!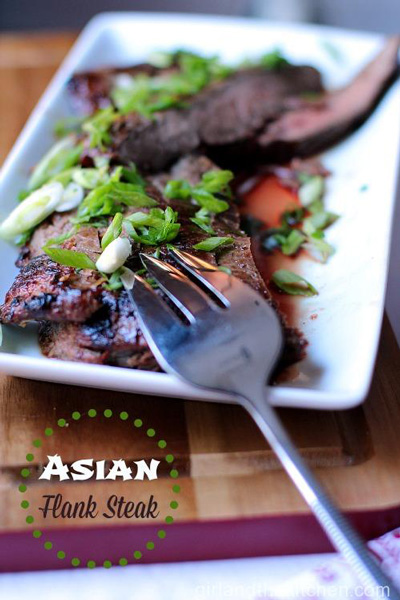 Asian-Style Grilled and Marinated Flank Steak
(from Girlandthekitchen.com)
Ingredients
3 pounds flank steak
¼ cup vegetable oil or peanut oil
½ cup LOW sodium soy sauce (I always use Kikkoman)
½ cup balsamic vinegar
¼ cup teriyaki sauce
¼ cup honey
juice of 1 lime
a few squirts of siracha, depending on how spicy you like it
thumb sized piece of ginger, minced on a microplaner
5 garlic cloves minced on a micro planer.
4 scallions sliced thinly
Instructions
1. Combine soy sauce, balsamic vinegar (this is what gives that tangy, savory flavor) honey, teriyaki sauce, ginger, lime, garlic, a few squirts of sriracha, vegetable oil and scallions into a bowl and mix to combine all the flavors.
2. Then throw all the ingredients in a zip-lock bag along with the steak. Shake, shake, shake. Make sure it's all covered.
3. Place in the fridge for at least an hour and up to 24 hours.
4. If you live in the not so warm parts...like me... you can cheat a bit. Take a large oven proof frying pan and place it into a 500-degree oven for about 10 minutes. Or you can place it in there as the oven preheats.
5. Remove your steak out of the bag and place it on a paper towel, dabbing the moisture off of the steak.
6. Once the pan is heated, place the steak directly onto the pan. You will see it shrink up immediately from the high heat. Close the oven and allow to cook for 5 minutes then flip it and cook it for 2 minutes.
7. For me, this is the ultimate way to sear a steak nicely without clouding my house up with smoke.
8. Place the steak on a sheet pan and cover with foil. Let the meat rest for 10 minutes.
9. Slice into it on a bias, against the grain, as we previously discussed.
10. Sprinkle with scallions and grab some chop sticks! Dinner is served.