Permanent link
07/27/2009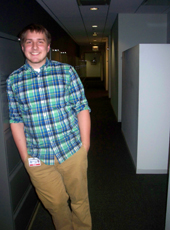 So, I was reading the RedEye today on my way in to the office from Evanston (such a long journey!) and I couldn't help but notice that the cover story was about INTERNS.  LIKE ME!  Being that I'm your Oy! Intern, I thought it would be nice to read about my compatriots in the land of proto-employ, my fellow knights in the struggle against the dragon experience.
 
According to the article, in this economy, interns are getting more and more responsibility, filling in for cutbacks in hours and employees, but while some are paying thousands for the experience of an internship, others are getting paid—an average wage of $17.13 per hour!  So, Oy! owes me approximately $582.42—I mean, apparently as an intern I can command an average wage of $17.13.  I'll wait.  Well, actually, I won't because I'd be waiting for ever.  This is the non-profit world after all.
Once I picked my jaw back up, refitting my mandible onto my maxilla and sewing my muscles back together, I wondered how I could get myself a cushy little internship with a salary like that.  I thought it might be a fledgling newsroom intern thing, so I checked with some friends.  No dice.  Sounds like CBS's investigative unit is implementing some New York City Ballet style cost-saving measures.  I figured Catalyst Chicago would probably in a similar boat to us here at Oy!  But Energy BBDO?
I'll agree with RedEye's featured intern, Derek Moody, that I've got loads to do here, but it can still be a lot of hurry up and wait.  And yet, remember last week's party in Bucktown?  I cut up all those little attendance cards.  With an X-acto knife.  To be fair, Mr. Moody is working directly for his company, and for an established moneymaker.  I'm working in JUF's not-so-secret literary laboratory.
In all, do I think it's worth it?  Yes, and so do my friends—otherwise, we wouldn't stay put.  Oy! took a chance on me—a kid with no journalism experience outside of one opinion column in the Garfield Messenger—and it's been unreal, especially as a film major who gets to fool around on a camera for work.  I just hope this means I'll be getting a spot here in a couple of years…