Permanent link
07/23/2014
I have secret delusions of grandeur. I fantasize about a lot of things. If I look up from my computer screen I can see my daydreams strewn about my apartment. There's my treadmill, my enormous and endless mountain of a reading list on my desk and my dining room table whose top I can't seem to get clean. I have others; most of them are far too embarrassing to share. My latest? I want to be your grandmother.  
Don't be alarmed; I know that sounds completely ridiculous. I don't want to actually be a Bubbe. What I want is to be the sort of person who can whip up treats without breaking a sweat.  
My granny-daydream mostly involves baking pies that pop magically from the oven 3.4 minutes after you arrive at my apartment. The buzzer on the oven will go off and you'll give me a questioning look. I'll laugh to myself and then say, "Oh, this old thing? I threw it together from some stuff I had in the fridge." You know, like grandmas often do.  
I had a couple of friends over this weekend and I decided to put my inner granny to the test. I bought cherries from the grocery store and a few other ingredients including a pre-made piecrust. Yes, pre-made crust because Bubbes don't waste time. I was beyond excited. I was planning to make a day of it. I'd take my time and create the most magical and tasty cherry pie my friends had ever seen. I imagined my friends arriving to the thick and delicious aroma of cherry pie. It would smell like, well, your grandmother's house.  
I cannot lie. It was a disaster at the start. Daydreams are dreams, after all. The pre-made crust was frozen. There was no time for it to thaw. I held it to try to warm it up. I put it in a zip-lock bag and ran hot water over it. I glared at the crust hoping the death rays from my eyes would help bring it to room temperature. Finally, I gave up and removed the dough from the packaging. I warmed it by kneading it with my hands and forming it into a ball. So much for saving time!  
But wait! There's more!  
News flash! Cherries have pits. I suppose I knew this somewhere in the very deep, dark corners of my mind. The pits have to be removed. How do you remove cherry pits when you don't have a cherry pitter? At first, I sliced the cherries in half and pulled at the pits. I guess that's a fine way to get the job done, but it's very tedious. Thanks to Google, I learned that all you need is a set of chopsticks. You push the stick through each cherry and the pit pops right out.  Crisis number two averted!  
For all of my stress, worry and panic, my pie came out perfectly. I'm not sure I've ever been more proud of a dessert and the house did smell incredible. So everything worked out. Maybe this is how it starts for all grannies? Maybe the measured calm that your Bubbe seems to ooze is something that she's had time to practice. Or … maybe we just don't get the see the part where she's standing in the kitchen Googling how to pit cherries and shaking her fists at the sky. I guess we'll never know.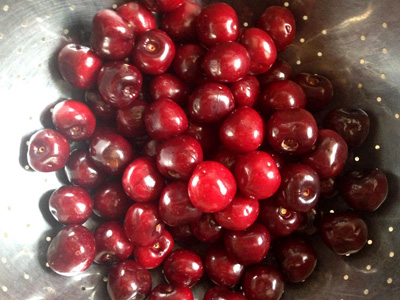 Sweet Cherry Streusel Pie
(adapted from The Four & Twenty Blackbirds Pie Book by Emily and Melissa Elsen)  
Cherry Filling
1 small baking apple
5 cups sweet cherries, pitted
2 tablespoons fresh lemon juice
¾ cup packed light brown sugar
3 tablespoons potato (or corn) starch
¼ teaspoon ground cinnamon
¼ teaspoon ground cardamom
2 dashes Angostura bitters  
Preheat the oven to 425.  
Peel the apple, and then shred it on the large holes of a box grater. Combine the shredded apple with the cherries, lemon juice, brown sugar, potato (or corn) starch, cinnamon, cardamom, and bitters in a large bowl and toss until well mixed. Pour the filling into the refrigerated pie shell and evenly distribute the streusel on top.  
Bake for 20 to 25 minutes. Lower the temperature to 375 and continue to bake for 30 to 35 minutes longer.  
Streusel Topping
1 cup all-purpose flour
3 tablespoons packed light brown sugar
4 teaspoons granulated sugar
¼ teaspoon kosher salt
6 tablespoons unsalted butter, cut into ½ inch cubes, at room temperature  
Stir together the flour, brown and granulated sugars, and salt in a large bowl. Sprinkle in the butter pieces and toss to coat. Rub the butter into the dry ingredients with your fingertips until the butter is incorporated and the mixture is chunky but not homogenous.  
Pie Crust
Seriously. Unless you're an actual granny who has a pie crust recipe memorized and can make a pie crust in your sleep…buy a pre-made crust! Get a pie crust from your favorite grocery store and follow the directions on the box. Make sure to give yourself enough time to manage this piece of the project! The dough needs to thaw before you bake it!