Permanent link
07/21/2014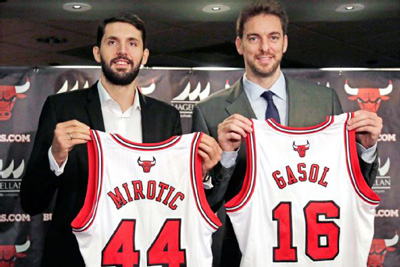 Fresh off the Spurs' NBA Championship, I wrote about how their win over the Big 3 of Miami signified that teams can still win with teamwork over grouping stars.
We were on the cusp of the off-season and the Bulls were tight on the trail of Carmelo Anthony and Kevin Love. And I'll be honest, while my expectations were low, I was obsessed with this free agency period. Checking Twitter every few minutes, keeping SportsCenter on while I worked at all times, checking every NBA rumor site. I was hooked. I couldn't take my eyes off it. The thought of having our current roster along with Carmelo Anthony was making my basketball brain explode.
But alas, this free agent period ended like all free agent periods in Chicago. We came up short.
Carmelo stayed in New York, Love stayed in Minnesota (for now), LeBron went to Cleveland, Bosh and Wade stayed in Miami and Stephenson went to Charlotte. The Bulls made some moves, which I'll focus on a bit later, but I think the best moves for the Bulls were those made by other teams. Carmelo stayed in New York on a team that is rebuilding instead of teaming up with LeBron somewhere, and LeBron James went back to a young but talented Cleveland team, officially ending the Big 3 era. The East has become spread out for the first time since 2009 and as a result, is wide open.
The moves the Bulls made focused on depth, something they haven't truly had since the 2010 season where they went to the Eastern Conference Finals. They added, Pau Gasol, Nikola Mirotic, Aaron Brooks, Doug McDermott, and re-signed Kirk Hinrich. The Bulls are 11 deep if you count Tony Snell, who is having a very good Summer League, into the equation.
Obviously the biggest factor in their success this season is Derrick Rose—will he play for an entire season and will he return to form. But assuming he does, because for our own mental health we have to, the Bulls have given Thibs reliable options off the bench so he doesn't run the same six players into the ground the way he did the last two years. Hopefully he'll be able to follow the Spurs' model and take advantage of his depth to allow his top players to be fresh come playoff time. Here is my take on the new Bulls.
Pau Gasol: Veteran, great passer, scorer and rebounder. Takes Boozer's spot, should have numbers about as good as Boozer at his best, with fewer bonehead plays and screams for Jo to "get that." I'm interested to see how much he has left in the tank, but Pau strikes me as the kind of guy with a skill set that can last him well into his later years if his minutes are managed (which is no guarantee with this coach). He creates a really exciting 3 man big rotation with Jo and Taj, and should be lethal running the pick-and-roll with DRose. He has championship experience and is obviously highly respected by the Bulls.
Nikola Mirotic: Honestly, a big fat question mark, and the best bet is probably not to set expectations too high for him for a while. However, a stretch 4 as your 8th or 9th man with the potential to be a solid shooter and a matchup nightmare is great to have. As long as he isn't depended on to heavily early on, and my guess knowing Thibs is he won't be, he could be a really interesting piece. And after waiting on him for three years, I'm just excited to see him out there. 
Doug McDermott: I watched a little of him in Summer League, and while I agree with the qualifier "its summer league," this guy could be really, really good. He is an incredible shooter – the comparisons to Kyle Korver are dead on. Moves well without the ball and has a very quick release. But he is big and can get to the hoop as well, which is something Korver never did. Thibs tends to "red shirt" his rookies, but I can see this guy very quickly eating up Dunleavy's minutes.
Aaron Brooks: I think this is a great signing. Not only as the Nate Robinson, DJ Augustin, etc. DRose insurance plan, but as a legit 1 who can come off the bench and score. He can give Rose some rest and also allow Hinrich to move over to the 2 in some lineups. Also gives the Bulls a very interesting option to go small and fast with he and Rose together. A trusted veteran who Thibs can trust now allows this team to go a legit 11 deep.