Permanent link
06/18/2014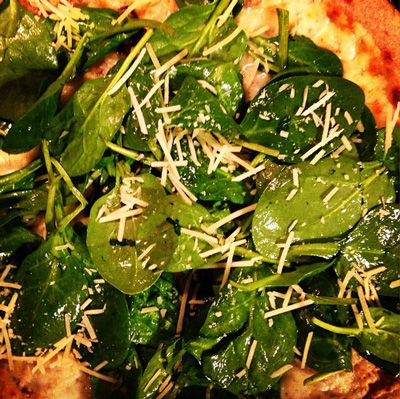 Living in Chicago is difficult. Well, yes, there is winter, but aren't you past that by now?  We have bigger issues than a silly Polar Vortex. I'm talking about the various (mostly unspoken) rules that pit us against each other. Each of these "Chicago Commandments" and how you approach them says a lot about the kind of Chicagoan you are. Are you for the Cubs or Sox? Do you secretly put ketchup on hotdogs? How do you feel about the Blue Line? What about a playoff beard?  
These little idiosyncrasies are endless, but the king of them all will get a true Chicagoan riled up faster than the Crosstown Classic. I dare you to ask this question to a group of people:  Where do I find the best pizza?
It sounds innocent enough, but if you ask that question you're likely to find yourself in a wrestling match. When I'm asked where my favorite pizza comes from, I like to throw gasoline on the fire by saying that I prefer making my own. I know. Who says something like that? Who do I think I am, Gwyneth Paltrow? What a disgusting and revolting thing to say. I make my own pizza. Why can't I just say Lou Malnati's and move on with my day?  
Lou's does get me more excited than just about anything, but I really do prefer the magic of making my own pizza. I like the idea of putting ingredients that I select from the grocery store onto my pizza. I know, there I go with my Paltrow face again.  I discovered the recipe listed below during one of Chicago's freeze outs this past winter.  I wanted pizza. I also wanted a way to entertain beyond reruns during those negative temps. I felt guilty ordering delivery and I try to avoid weird processed foods when possible, so frozen pizza was out too. The solution? DIY pizza.
I give the recipe for pizza dough below, but if that sounds like the most annoying and time consuming thing you've ever heard there are other options. Trader Joe's has pizza dough that you can roll out if you want to skip a few steps and save a bit of time.  It's delicious and gives a thicker chewier pizza crust. If you like a thinner pizza, Jewel offers a ready-made pizza crust that is shaped and ready to go.  If you're as lazy like me, you should totally use one of these options. Just follow the instructions on the packaging. Enjoy!
Ingredients:
For the dough:
1 1/4 cups warm water
2 packages dry yeast
1 tablespoon honey
olive oil
4 cups all-purpose flour, plus extra for kneading
Kosher salt
4 cloves garlic, sliced
5 sprigs fresh thyme
1/4 teaspoon crushed red pepper flakes
For the topping:
3 cups grated Italian fontina cheese (8 ounces)
1 1/2 cups grated fresh mozzarella cheese (7 ounces)
11 ounces creamy goat cheese, crumbled
For the vinaigrette:
1/2 cup good olive oil
1/4 cup freshly squeezed lemon juice
Freshly ground black pepper
8 ounces baby arugula
1 lemon, sliced

Directions  
Mix the dough: Combine the water, yeast, honey and 3 tablespoons of olive oil in the bowl of an electric mixer fitted with a dough hook. When the yeast is dissolved, add 3 cups of flour, then 2 teaspoons salt, and mix on medium-low speed. While mixing, add up to 1 more cup of flour, or just enough to make a soft dough. Knead the dough for about 10 minutes until smooth, sprinkling it with the flour as necessary to keep it from sticking to the bowl.

Knead by hand: When the dough is ready, turn it out onto a floured board and knead it by hand a dozen times. It should be smooth and elastic.

Let it rise: Place the dough in a well-oiled bowl and turn it to cover it lightly with oil. Cover the bowl with a kitchen towel and allow the dough to rise at room temperature for 30 minutes.

Make garlic oil: Place 1/2 cup of olive oil, the garlic, thyme and red pepper flakes in a small saucepan and bring to a simmer over low heat. Cook for 10 minutes, making sure the garlic doesn't burn. Set aside. Don't want to make this?  You can buy garlic infused olive oil at any grocery store…

Preheat the oven to 500 degrees.

Portion the dough: Dump the dough onto a board and divide it into 6 equal pieces. Place the doughs on sheet pans lined with parchment paper and cover them with a damp towel. Allow the dough to rest for 10 minutes. Use immediately, or refrigerate for up to 4 hours.

Stretch the dough: Press and stretch each ball into an 8-inch circle and place 2 circles on each sheet pan lined with parchment paper. (If you've chilled the dough, take it out of the refrigerator approximately 30 minutes ahead to let it come to room temperature.)

Top the dough: Brush the pizzas with the garlic oil, and sprinkle each one liberally with salt and pepper. Sprinkle the pizzas evenly with fontina, mozzarella and goat cheese. Drizzle each pizza with 1 tablespoon more of the garlic oil and bake for 10 to 15 minutes, until the crusts are crisp and the cheeses begin to brown.

Make the vinaigrette: Meanwhile, whisk together 1/2 cup of olive oil, the lemon juice, 1 teaspoon salt and 1/2 teaspoon pepper.

Add the greens: When the pizzas are done, place the arugula in a large bowl and toss with just enough lemon vinaigrette to moisten. Place a large bunch of arugula on each pizza and a slice of lemon and serve immediately.