Permanent link
05/29/2015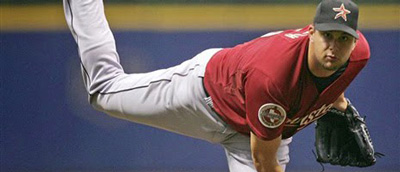 There are a lot of guys who've made it to the Bigs -- that is an accomplishment in its own right -- but only a small percentage of those players have been Jewish. Meet Jason Hirsh. He might not have had the longest MLB career but he played against the likes of Albert Pujols and Barry Bonds. Not the easiest guys to pitch against. Since retiring Jason has stayed close to the game. Here what he is up to:

 1) Tell us about yourself.
I'm a former MLB pitcher who now runs my own pitching academy, cleverly named, the Jason Hirsh Pitching Academy in Denver. I was drafted in 2003 by the Houston Astros in the 2nd round out of California Lutheran University, a small division III school in southern California. I became the 4th highest draft pick ever out of a division III school. While in the minor leagues for the Astros I was named the Pitcher of the Year in both 2005 and 2006. 2005 was in AA Corpus Christi of the Texas League and 2006 was in AAA Round Rock of the Pacific Coast League. I became the first person to ever win that title in those two leagues in back to back years. 
I made my MLB debut for the Astros in August of 2006 and got my first MLB win a few starts later in Milwaukee. After that season I was traded to the Colorado Rockies for Jason Jennings for the magical season of 2007. I was named the 5th starter out of spring training and was pitching to a pretty good season when I was derailed by injuries. The final injury was a broken leg suffered in August, which prevented me from being able to participate in the 2007 World Series. That next season I strained my rotator cuff in spring training and didn't regain form until September that season. 
In 2009 I was traded to the Yankees and sent to AAA Scranton Wilkes-Barre where I regained form and felt like my career was back on track. 2010 was a bounce back season in which I felt like my old self, pitching to some great numbers and helping lead my team to the playoffs. My career came to a screeching halt in August of that season as I tore my rotator cuff and labrum throwing a ball to 1st base effectively ending my season. After major shoulder surgery in 2010, I took 2011 off to rehab and in 2012 played in the Australian Baseball League for the Melbourne Aces. 
Finally in 2013 I was playing in Amarillo Texas for the Amarillo Sox of the American Association when I finally decided to hang up my spikes for good and start my own pitching academy. The goal of my academy is to teach kids proper arm care techniques and mechanics to ensure proper development and growth.
2) When did you know you would be able to make it to the Bigs?
I've always wanted to be a professional baseball player. When someone asks kids what they want to be when they grow up, most kids put fireman or policeman or astronaut, I always wrote Major League Baseball Player and my parents have the schoolwork to prove it. It has been my goal my entire life and I worked tirelessly to achieve that goal. 
I knew I was one step closer when I got drafted by the Astros but didn't realize how quickly it would come, especially considering all the adversity I went through to get there. When I got called up it was a total shock to me. We were in Salt Lake City playing the Bees (I was with Round Rock) and I was running out to the game mound to throw my warm-ups to start the game. Off to my right I could hear someone warming up in our bullpen which was odd considering I hadn't thrown a pitch yet. It was a reliever who hadn't thrown in a while so I figured he was getting some work in. I completed my first inning unscathed and took my seat in the dugout. The reliever continued to get loose. I ran out for my second inning and threw my warm-ups. After the ball went down the 2nd base my manger (Jackie Moore) began his stroll out to the mound. I was still clueless at this point. He reached the mound, laid his hand out flat, which was the universal sign for "give me the ball," he looked me in the eyes and said "Congratulations son, you're going to the big leagues." All my teammates came to the mound to give me hugs and handshakes and that's when I knew my dreams had finally come true.
3) What was recruitment like as a High Schooler?
I grew a lot in high school -- both physically (5 inches between my sophomore and junior year) and mentally. I was 6'8" 260lbs and throwing 88mph in high school. You would think people would be chomping at the bit to get me into their programs. Unfortunately that wasn't the case. I wanted to play for Arizona State, they wanted me to go to a JuCo and transfer in and I didn't want to deal with transferring as my education was just as important as baseball. Finally one day Cal Lutheran offered me a spot on their team. They said I could pitch from day 1 and that was music to my ears. It's a good thing I had a decent GPA in high school because division III colleges cannot offer athletic scholarships. Once at Cal Lu, I started in the bullpen. Then four games into the season a starter went down with an injury and I stepped in and never stepped back out. The rest is history.
4) What was it like to play in the Majors?
The big leagues is everything you could possibly imagine and more. From fancy hotels, to private jets to big paychecks to bigger stadiums, tens of thousands of fans and incredible pressures. There is a reason why people spend a lifetime trying to get there.
5) Who was the best player you played with and against?
I played with a lot of great players but the ones I remember the most are great teammates. I don't want to single out an individual because there were many people who had an impact on my career and my life. Likewise I played against a lot of great players from Albert Pujols to Barry Bonds to Gregg Maddux and Randy Johnson. Granted most of the greats I played against were in their twilight years, there were quite a few who continue to make an impact in the big leagues and are now the superstars.
6) Any regrets?
My only regret is not being able to stay healthy. I really liked to interact with fans and inspire kids and I felt like if I had stayed healthy I would have had a much bigger platform from which to achieve those goals. Other than that, I have no regrets.
7) What was your Jewish upbringing like?
I'm a holiday Jew, though probably the most practicing of all my family members. I'm extremely proud of my Jewish heritage and the legacy that I was able to help carry on. When I was a kid I mostly remember Hanukkah and as I got older we I participated in Yom Kippur services. It wasn't until I got to high school at St. Francis High School (a Catholic school) that I really learned about my faith. I took an intro to religion class which might as well have been called Jewish History where I probably learned more about my faith than if I had gone to another school. I also learned about my faith at Cal Lu (a Lutheran school) where I also took another intro to religion class which concentrated on Jewish history. Without either of these schools I definitely wouldn't have the love and appreciation I do today of my culture and heritage. On a side note my first catcher in the big leagues was a fellow Jew named Brad Ausmus (current manager for the Detroit Tigers). We became just the 2nd Jewish Pitching/Catcher battery in MLB history behind Sandy Koufax and Norm Sherry.

8) Koufax or Greenberg?
I'm a pitcher so of course I'm going side with Koufax. Plus I grew up in Los Angeles where I was a huge Dodger fan. I did learn quite a bit about Hank Greenberg from an amazing documentary I was fortunate enough to see called "Jews In Baseball". On a side note, my agent Arn Tellum was featured in that documentary which was cool for me to see. I love history, especially World War II history and the Greenberg's story was something that definitely peaked my interest.
9) What are you doing these days?
As I mentioned earlier, I have a Pitching Academy in Denver Colorado where I teach kids of all ages the art of Pitching and Arm Care. I'm also married to my beautiful wife Pamela whom I met in college and we have two boys (Brady, 5, Hudson, 3). If I'm not in the batting cage or at home with my boys you can probably find me wading in one of the many beautiful rivers in Colorado, fly fishing for trout (inspired in part by a book called "Fly Fishing: A Spiritual Practice").

Thank you to Jason for taking the time to answer our questions. Great story and checkout his academy www.hirshacademy.com