Permanent link
05/04/2011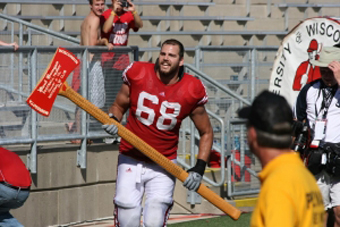 Chicago has had its share of great athletes—Michael Jordan, Frank Thomas, and Stan Mikita to name a few. The Bears have probably been the richest of the Chicago teams, with players like Walter Payton, Gayle Sayers, and Dick Butkus. But it has been a while since any Chicago team has had a great Jewish athlete. The Cubs had Ken Holtzman and Steve Stone but besides those two it has been hard for Chicagoans to rally around a top Jewish star. The one Chicago Jewish athlete that has Hall of Fame status is Sid Luckman. Luckman retired in 1950 and Chicago Jews have been searching for a star ever since. And with the 29th pick in the 2011 NFL Draft the wait might have ended. The Chicago Bears selected Gabe Carimi out of the University of Wisconsin.
The last two NFL drafts have seen three Jewish football players drafted. In 2010, Tampa Bay took Erik Lorig in the 7th round. The other pick was Taylor Mays who was a projected first round pick. After getting snubbed by his own college coach Pete Carroll, Mays fell to the second round. But this year Carimi was selected in round number one. Jewish football fans finally have a player to cheer for. Over the last few years there have been a bunch of up and coming Jewish athletes in other sports including Jordan Farmar, Kevin Youkilis, and Mike Cammalleri. But Carimi comes in immediately and is arguably the top Jewish NFLer. His numbers will not be flashy and he won't be catching touchdowns, but he has the opportunity and potential to be a perennial Pro Bowler.
Carimi will play for an offensive line that is anchored by Olin Kruetz. He has one objective in the Mike Martz style offensive: protect Jay Cutler. The Bears have invested a lot of time and money in their quarterback and have done a poor job giving him time to throw the ball. So, Carimi needs to keep Cutler off his back and allow him to throw touchdowns.
In college Carimi won the 2010 Outland Trophy for the nation's top interior lineman. He had 49 starts at left tackle and played in the 2011 Rose Bowl. He was also a unanimous selection 2010 Consensus All-American and the Big Ten Offensive Lineman of the Year.
That is what he has done on the field but in the synagogue he has been much more impressive. He grew up in a Reform synagogue where he was bar mitzvahed at Temple Beth-El in Madison. He had a bar mitzvah project that helped Habitat for Humanity. While in high school he helped in his synagogue's Hebrew School. According to a JTA article, this past September, Yom Kippur coincided with an afternoon game. Carimi wrestled with whether he should play at all, even going to his rabbi for advice. Ultimately, he came up with his own compromise: Instead of fasting from sundown to sundown, he started the fast early enough to give himself a few hours to recover before the game.
He is not only Jewish but he cares about his religion. Caring brings Jews more pride than just playing sports. Yes, we love Sandy Koufax for being Jewish, but we hold him on a pedestal for not playing on Yom Kippur. We love Omri Casspi for playing basketball but we cheer for him more for embracing the Jewish community. And we follow Yuri Foreman for being a champion, but we love him more because he is going to be a Rabbi. Carimi is not just another Jewish player; he will be a leader on the field and in the Jewish world.
We as Jews should celebrate this first round draft pick. Not just Bears fans, but Jews everywhere. Carimi is a public figure, one that embraces his Jewishness and can be a role model for young Jews everywhere. I know I will be watching him on a weekly basis, which is made easier by him wearing Blue and Orange. Welcome "Bear Jew" and get ready to Bear Down!