Permanent link
But will it stay that way?
05/26/2009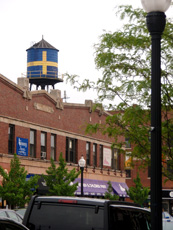 Our neighborhood Jewel just completed its renovation. This is not just a statement of fact or inconsequential news. It is a sign. When we lived in Lincoln Square, the Jewel was being renovated along with a million gut rehab jobs and new condo buildings. Prices went up. Mom and Pops moved out. Potbelly's and Coldstone moved in.
Now residing on the dividing line between Andersonville, Uptown and Edgewater, we are pleased to see that our investment in this neighborhood may eventually pay off. But I like the way things are and am wary of the coming changes.
I love my little street in Chicago. You'd think it would be quiet because it is an extremely narrow (yet somehow still a two-way) street, one of the only ones without its own number. But at 50 ½ blocks north our street is anything but quiet. I'm like a nosy old lady who stares out the window commenting on the foot and street traffic going by. And there is so much to comment on, like why would fire trucks choose our narrow little street complete with speed humps to blaze through, sirens blaring?
I love that I hear different languages on my walk to the el every morning. The older Vietnamese man tends his vegetable garden at the same time every day, hand rolled cigarette hanging in the corner of his mouth. The large bearded man in the wheelchair yells at everyone and to himself as he rolls down the sidewalk. Our Afghani neighbors regularly share the most delicious flatbread I've ever tasted. Bikers, skateboarders, strollers, and the young Hispanic guy pushing his cart of snacks are all on their way to the beach a few blocks away. Couples of all ages hold hands and stop to read the enormous new condo sign next door and I wonder if they will be our new neighbors.
After at least a hundred years – I believe our building was built around 1900 – the roof started to leak. And while we prepare to patch up the holes, I wonder if it too is a sign. That no matter what we do to preserve it, the inevitable change creeps in, drips right in front of your face, and then covers you in buckets you can no longer ignore. Mostly I welcome change with applause, but I wonder what our neighborhood will look like in 10 years and it makes me prematurely nostalgic. Who will live next door? Will that ugly green-sided building which supposedly once housed the entertaining Charlie Chaplin still be standing?
There are only a few Swedish businesses that have managed to stay rooted to this historically Swedish neighborhood. Is gentrification inevitable? It is undeniably sad, uprooting families and businesses and lives. At the same time, I was ecstatic to discover the new variety of Tofutti ice cream at Jewel just in time for summer. Despite the foreshadowing of the Jewel renovation, the housing market has slowed way down in the past couple of years. Will it merely slow down during the recession and pick up gentrifying again when things turn around? Is the housing market a blessing in disguise? Is your neighborhood changing too?