Permanent link
05/02/2012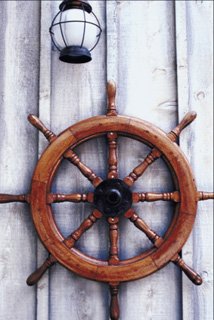 Is it just me, or has nautical become a rather consistent annual trend come spring/summer? I'm actually a big fan of the nautical trend, and I'll go into why, but I still find it a little funny that it has become so wide-spread and mainstream over the years. I mean, clearly the vast majority of Chicagoans are running off to our yachts on the Cape come Memorial Day weekend! (I jest). However, I did go on the occasional Martha's Vineyard trip during college and there is no doubt that this trend has become so popular with good cause. There is something undeniably crisp and clean, preppy, yet very trendy about the navy and white stripes, anchor motifs, etc.
Hence why I believe the trend has set sail across the country and not just in traditionally "nautical" ports of call like Cape, Nantucket, The Vineyard, Maine, etc. Navy blue (and other shades of blue, although I always prefer navy) and white are universally classic and co-ed colors. Since they are also traditional nautical colors, the trend seems to be a nice fit for the color combination. Second, come spring, I think we all can agree that summer cannot come soon enough. What says "summer" more than boats, the ocean, and the crisp and salty sea air? Throwing on my white jeans for the first time with a striped boat-neck t-shirt really gets me in the mood for a fabulous season. In anticipation of the good summer-times ahead, I suggest you do some spring shopping to stock-up on classically nautical, but ever-so-fashionable wardrobe enhancements.
1. I LOVE this silk blouse and something tells me I will not be able to resist the purchase. At first I thought all of the anchors were a little much, but we always need a little fun in our wardrobe. J. Crew tends to be my go-to store to throw a little nautical punch into my closet.
2. I recently purchased this Ella Moss tank from Anthropologie in blue. The blue stripes provide that nautical vibe, but in a more quiet way. I plan on wearing it with wide-leg denim trousers and a white blazer.
3. I have been meaning to purchase an over-seized knotted rope necklace for some time. It's a quirky exaggeration of the boating knot, making a stylish statement. This website by jewelry designer Allison Hertzberg offers many rope jewelry options.
4. Gentleman: You'll be thankful if you take the risk and sport some Nantucket Reds or seersucker pants (I like the seersucker from Brooks Brothers). You're also sure to look hot sporting one of these.