Permanent link
Welcoming the season and Passover
04/08/2014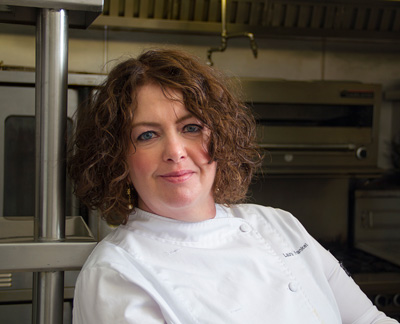 Polar vortexes and mountains of snow be damned, full speed ahead to spring and the holiday!
We Chicagoans have been through a lot and we deserve a delicious and full flavored Passover.
My theme for all the food this year is CLEAN recipes. No hidden ingredients and no faux or ersatz substitutes. Just pure, scrumptious flavors.
I get depressed when I see the piles of mixes and boxed Passover foods lining the shelves. I am not sure what those mixes have to do with Passover, but I know they are not good. I prefer to eat with whole and unprocessed ingredients. Passover should be is a feast for the senses that will nourish mind, body, and soul. I don't see boxed and nutritionally empty foods as a part of that sensibility. I want to emerge from "Mitzrayim" (Egypt) and the holiday renewed physically and mentally.
I attended the International Association of Culinary Professionals and the Women Chefs and Restaurateurs Association, both hosted in Chicago this year. The lectures I attended at both events were remarkable similar. The topic of discussion was regarding the health of the nation and why no one cooks at home? The only way for our families to get healthy is if we spend more time cooking at home and eating wholesome homemade meals. I was saddened to hear that the First Lady of the United States and Private Chef for the First Family both said the reason people don't cook at home is not due to time constraints or even economics; it is due to the simple fact that they don't know how!
As a chef, it is my mission to share recipes, techniques, and any tricks I have up my sleeve to get people in the kitchen and cooking. I think one of the first steps to that end of cooking at home from fresh whole ingredients, is to skip the box of chemicals and gunk and go for the fresh and whole foods.
I think the holiday is a chance to break away from our usual work-day routines and eating habits and start the season clean and fresh, just like our freshly scrubbed kitchens and homes. And yet, more than any other time of the year, I see store shelves and shopping carts full of boxed, prepared foods that bear no resemblance to real food.
After the winter we have had, I am cooking up a holiday full of bright, fresh and clean flavors. Here's to a holiday of home cooked and fresh meals of Clean Food. Chag Kasher v' Sameach Pesach!
Standing Rib Roast with Smashed New Potatoes
Cooking a large piece of meat to the perfect juiciness starts with bringing the meat to room temperature before cooking.
The center/eye of the meat should be at room temperature or it will be undercooked with the outer layers being overcooked. Your goal is a large medium rare EYE of the meat with a thin browned layer on the outside.
Take the time to allow the meat to come to room temperature which should be about 1 hour or so.
I scatter the bottom of my roasting pan with small onions, baby potatoes, and whole heads of garlic. I use cipollini onions, which are small and sweet. They cook to a delicious caramel-gooey texture and make a great schmear for the meat. Divine! 
Serves 8-10
6 rosemary sprigs, leaves stripped and chopped
8 cloves of garlic, finely chopped
¼ cup kosher salt
2 tablespoons freshly cracked pepper 
1/3 cup extra virgin olive oil
1 8-81/2-pound bone-in rib roast
2 cups small onions (such as pearl onions or cipollini), peeled
2 pounds new potatoes
2 whole heads of garlic
1. Place the rosemary, garlic, salt, pepper, and olive oil in a food processor and pulse until the mixture forms a paste
2. Schmear the paste, generously, on the roast and allow the roast to stand at room temperature for an hour or refrigerate overnight.
3. Preheat oven to 425 degrees F. Place the meat in a roasting pan, meat facing up, and roast for 30 minutes. Decrease the oven temperature to 350 degrees F and cook, occasionally spooning the juices over the meat, until a thermometer inserted into the thickest part of the meat registers about 125 degrees F (about 1 ½ hours) for medium rare. (I go a little under to account for carry over cooking, so I prefer to pull the meat at 115 degrees F.)
4. Allow the meat to rest for about 15 minutes before cutting the meat off the bone and slicing.
5. Skim the fat off the pan juices and serve.
6. Squeeze the cooked garlic out of the bulb and mash in a bowl.
7. Smash the potatoes with the back of a small pan and toss with the garlic and salt and pepper
8. Place a pan, lightly coated with olive oil, over medium heat and cook the potatoes until the edges are crispy and browned.
9. Serve the potatoes on a platter with the sliced meat and top with the browned onions and pan juices.
Roasted Carrots
When spring has sprung so has one of the simplest and most underrated vegetables, baby carrots. I am not talking about the carrots that are machine cut and in a bag in the produce department. I am talking about the carrots that are purchased with their tops still on and are miniature gorgeous orange, yellow and burgundy sweet root vegetables loaded with earthy flavor.
These beauties don't need much fussing. Just a quick rinse and scrub (I don't even peel mine) and then a good toss with good EVOO and some salt and pepper.
Simple is sometimes the best way of showing off color and flavor.
2 bunches of baby carrots with tops (carrots with tops are a good indicator of freshness. If the tops don't look fresh and vibrant, the carrots are not fresh), tops cut off with an inch left attached to the carrot for a rustic look
EVOO
Kosher salt and pepper
Preheat oven to 350 degrees, line a baking sheet with parchment paper.
1. Toss the carrots with olive oil, salt and pepper and place the lined baking pan. Don't overcrowd the carrots or they won't brown evenly.
2. Roast the carrots about 15-20 minutes until they are light toasty brown but still show their gorgeous color. You should be able to pierce the carrot with a fork and have a little resistance.
3. Toss the carrots with crispy shallots.
Crispy Shallots
Crispy shallots are a professional chef's best friend. We use them whenever we need a tasty crunchy garnish.
The secret to crispy shallots is to cook over medium low heat and in plenty of oil. Don't worry, the oil can be used to sauté in…bonus!
4 large shallots, peeled and sliced very thinly on a mandolin or with a knife
Extra virgin olive oil
Kosher salt and freshly cracked pepper
Line baking sheet with paper towels
1. Place a 9-10 inch sauté pan over medium-low heat. Add about ½ inch of oil. Cook the shallots very slowly until they turn golden brown. Be patient! This could take 15 minutes. Transfer the shallots to the lined pan and season with salt and pepper.
2. Store the shallots in a container with a tight fitting lid at room temperature for up to 3 days.
3. Save the tasty oil for sautéing, or drizzling on matzo in the refrigerator. YUM!
Meyer Lemon Sponge Cake
Sponge cakes are boring and ho-hum unless you kick them up a bit.
My sponge cake gets added oomph from Meyer lemons. Meyer lemons are cross between a tangerine and lemon. The fruit is fragrant and lively with the perfume of tangerine.
I also use vanilla bean in my cake. The essence from the vanilla bean adds an elegant flavor and aroma.
I bake my sponge in individual cake pans and add Meyer lemon curd as a filling between the layers. The curd is tart and refreshing.
You can also bake the sponge cake in a bundt style pan and place a dollop of the delicious curd right on top of the cake.
1 cup matzo cake meal
6 tablespoons potato starch
½ teaspoon sea salt
7 large eggs, separated
1 ½ cups granulated sugar, divided
1 ½ tablespoons grated Meyer lemon zest
½ cup Meyer lemon juice
½ Tahitian vanilla bean, scraped
Preheat oven to 325 degrees. 
1. Mix the flour, potato starch, and salt into a bowl and set it aside. In a large mixing bowl, beat the egg yolks and 1 cup of the sugar with an electric mixer on medium-high speed for 5 minutes, scraping down the bowl once. Mixture should be thick and light. Mix in the lemon zest, juice, and vanilla on low speed just until blended. Set aside.
2. In another large mixing bowl, with clean beaters, beat the egg whites on medium-high speed until the whites are thick and quite foamy. Gradually add the remaining 1/2 cup of sugar while beating the egg whites on high speed until they are stiff and glossy, about 7 minutes.
3. Fold in 1/3 of matzo mixture using a rubber spatula into the beaten egg yolks. Fold in another third of the flour mixture along with a third of the beaten egg whites. Then, fold in the remaining flour, then the remaining egg whites, until the batter is completely mixed in. Pour slowly into 9-inch cake pans and smooth the top with a spoon.
4. Bake for 30 to 40 minutes or until a toothpick comes out clean, remove onto a wire rack and let cool completely. Carefully remove cakes from the pans.
5. Spread layers with Meyer lemon curd and finish cake with Meyer lemon glaze.
Meyer Lemon Curd
There is nothing especially Pesadich about this recipe. It is so delicious you can use it year round.
My Meyer lemon curd is a clean recipe. I don't use margarine as a butter substitute, instead I add rich and delicious olive oil to give the curd extra richness and shine.
The curd is delicious as a cake filling and as a "dip" for berries and other fruit.
2 teaspoons Meyer lemon zest
Juice of 4 Meyer lemons
½ cup granulated sugar
6 egg yolks
2 tablespoons extra virgin olive oil
¼ teaspoon sea salt
1. Microplane lemons to make 2 teaspoons zest.
2. Whisk together zest, juice, sugar, salt, and eggs in a non-reactive pot. Place over medium-low heat and cook, whisking, until thickened and smooth, about 5 minutes. Strain curd through a fine sieve set into another bowl. 
3. Add the olive oil and mix thoroughly. Chill until ready to add to cake. Cover with plastic before chilling to prevent skin forming.
Meyer Lemon Glaze
The simple glaze adds flavor and finishes the cake beautifully. Be sure to use the glaze quickly before the sugar crystallizes and becomes grainy.
1 cup powdered sugar
2 tablespoons Meyer lemon juice
Mix vigorously to combine. Use immediately.
Visit Chef Laura Frankel's Facebook page (Chef Laura Frankel) to find out where she is teaching Passover cooking classes around town.