Permanent link
04/02/2012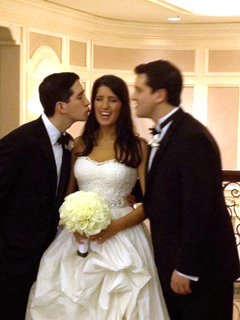 This issue, I have something very special to toast!
On March 24th, the first day of Nissan 5772, my sister Hayley married her longtime boyfriend and best friend, Brad Kessler. It was an enchanting weekend at the Four Seasons here in Chicago, and it began with a long, monotonous wedding rehearsal. Yay.
All the boringness aside, I always wondered what it was like to participate in a wedding. I have not been to many in my adult life, let alone been a part of one. It was a great experience and I really felt a part of something special the whole weekend. The hotel was so accommodating and exquisite, the wedding party itself was full of caring and happy friends and relatives eager to celebrate the union, and the bride and groom were on cloud nine. It was as if time was suspended, for just a little while, to allow these two to soak up every bit of this magical moment. You could see the sparkles in their eyes the whole way through. It was worth the long rehearsal, the tux purchase and fittings, the myriad of speech drafts. I was so glad to be a part of it.
The rehearsal dinner at Joe's Stone Crab was quite a memorable experience, to say the least. To make a long story short, when one of Brad's longtime best friends and groomsman gave his speech. When he began, many of us at the bride and groom's table, including the bride and groom themselves, exchanged nervous glances, wondering where this speech was going. This particular friend of Brad's was known for pranks. He didn't disappoint.
A loud voice was heard from the back of the room. We all turned to look as a man dressed and sounding like Martin Luther King, Jr., walked to the front of the room, reciting word for word the famous "I Have A Dream" speech in front of the whole group. There he was, a stranger giving an amazing rendition of this famous speech, while the best friend stood in the background, looking cool, nodding his head and interjecting with the "mmm-hmms" and "oh yeahs" you'd expect. The rest of us were caught between listening intently and trying not to crack up. Apparently, this was Brad's favorite speech and it was his best friend's tribute to him. As touching as it was, we were all certainly caught off guard. The man finished his speech, we all gave him a standing ovation, and the night continued.
And the party...let's not forget the party! Since the wedding was so late, we did not finish the ceremony until close to 9pm! As we exited the ballroom to wait patiently for the resetting and the band to set up, everyone got to enjoy some tasty appetizers. They went fast! Mac and cheese balls, mini sliders, truffle french fries and mini corn dogs were some of the awesome bites offered. Everyone was having a great time mingling and enjoying themselves. As time passed, I noticed that the busiest areas of the room were where the bars were, and that got me very excited.
Now, all of my avid readers would know that no celebration of this magnitude would be without a specialty cocktail to match. I was honored when Brad and Hayley asked me to create a cocktail to celebrate their nuptials. I thought back to one of our recent couples' dinners and recalled how much the two of them loved to drink sangria. From that recipe, combined with inspiration from the traditional Spanish sangria, "Sweet Beginnings" was born. You can make this at home for yourself or for any summer occasion. Notice that the sparkling wine used is Spanish as well, keeping to the rustic traditional theme as much as possible. I hope it brings as much joy and happiness as it did to the bride and groom. They absolutely loved it!
Sweet Beginnings (recipe for 10)
1 bottle (1.5 liters) dry Spanish red wine (Shiraz, Rioja)
⅓ - ½ cup brandy (blackberry preferred)
⅓ cup Cointreau
2 tablespoons honey, TO TASTE
2 nectarines or peaches, pitted and cut into wedges
½ pineapple, diced
12 strawberries, cut in half or diced
2 kiwis, diced or thinly sliced
2 apples, skin on, diced (optional)
1 ½ cups fresh orange juice
3 lemons, juiced
2 limes, juiced
Ice cubes
CAVA sparkling wine
Garnishes: diced fruits stirred into the sangria: lemon, lime, peach, strawberry, orange, pineapple, apple
In a pitcher, combine wine, orange juice, brandy, cointreau and sugar; stir until sugar dissolves. Stir in fruit (not garnishes!). Cover and refrigerate until well chilled, at least 3 hours (or overnight). If left overnight, strain old fruit out and add fresh fruit garnishes and stir well before serving. Serve in punch bowl. In individual servings, fill half the glass with ice pour sangria, then top off with 1-2 oz of Cava.
So, to my sister and her husband: I am so happy for the two of you and wish you all the happiness you can imagine and a long and healthy life together as a couple. L'Chaim!