Permanent link
04/17/2014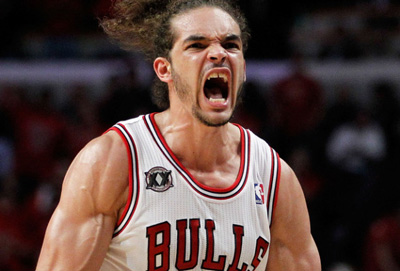 No matter how lost the last two seasons were, I cannot quit these Bulls. No matter how many times they are counted out or how many star players to lose, the Bulls continue to be not only fun to watch, but one of the top-tier teams in the NBA who could beat anyone on any given night.  
After Derrick Rose was lost for the season for the second year in a row, I was ready to cash in all of my chips on these Bulls. It was time to trade away their assets, tank and hope for good draft position going into next year. But for the second year in a row, the Bulls refused to quit. They refused to listen to their critics and they again find themselves one of the top teams in the Eastern Conference heading into the playoffs. Last year was a fun team to watch. Nate Robinson was worth the price of admission and kept the Bulls in several games they should not have otherwise been in. But injuries plagued them all year and by the time they hit round two, they just didn't have enough to compete with. But as much as Robinson and Marco Bellineli were fun to watch and made big plays, they also made a lot of mistakes that had me yelling at them in frustration almost as much as I did in joy.  
Yet somehow this year's team, with no Rose and Luol Deng traded away, is a much more fundamentally sound team. DJ Augustin can score off the bench, but can also play defense and makes his teammates around him better. Mike Dunleavy can hit the perimeter shot, but also has size over almost every small forward in the league. Taj Gibson is improved his scoring, continues to be a force on defense, and now closes every game. Jimmy Butler's game has improved, and he has settled almost seamlessly into the Deng role. And coach Tom Thibodeau just flat out knows how to get the best out of his players, and put a team capable of winning on the floor every single night.  
But the biggest difference is the emergence of Joakim Noah as a leader, a legitimate difference maker, and the heart of this team. Noah's energy and enthusiasm makes him fun to watch, but it's his winning attitude that makes this less of a "try-hard bunch" and more of a team who could make a legitimate playoff run in an overall weak conference. 
That is what makes them so intriguing to me this year. They are not the "Little Engine That Could" team they were last year. They play as a team, they have no selfish players, and it's no longer a surprise when they beat a good team. So even when they lose like they did last night, they always bounce back. So as a fan, they don't leave you down for too long. And why I just can't quit these Bulls.