Permanent link
03/31/2014
10. The reemergence of Aaron Poreda
A few years ago we were talking about Poreda as the next in line in terms of solid Jewish MLB starters. He emerged quickly with the White Sox and was a major piece of the Jake Peavy trade, but since then, his stock has plummeted and he really has not seen the majors or been a mainstay in any organization. This spring he has reemerged with the Texas Rangers and we hope he can reclaim his spot in the majors.
9. Joc the Jock
Joc Pederson is probably the best Jewish minor leaguer on the cusp of the majors. He has the potential to be a star. Let's hope he gets a call-up this year with the Dodgers.
8. A Youkilis return
Kevin Youkilis has packed his bags for Japan, but it's fair to say all of us would like him back in the USA. Let's hope a team needs a third baseman soon and Youkilis can continue being one of the greatest Jewish players of all time – on American soil.
7. Free-man
Nate Freiman showed flashes of greatness last season but never became a full time starter. This year we hope the Oakland A's allow him to fly and strut his power hitting skills. Free Freiman!
6. Oldies but goodies? Fuld, Marquis and Valencia
Both Fuld (A's) and Valencia (Royals) have caught on with teams and stand solid chances to make their respective ballclubs. Marquis, one of the greatest Jewish pitchers of all time, has yet to find a home. Let's hope all three find a way into the Majors this year.
5. Where do we begin? Zeid, Pillar, Lavarnway, Kalish
Josh Zeid, Kevin Pillar, Ryan Lavarnway, and Ryan Kalish all spent most of the season in the minors last year. Lavernway has yet to stick with the Red Sox despite high potential. Kalish, formerly with Boston, is getting over a season-ending injury and is now with the Cubs, and Zeid and Pillar are hoping to start where they finished the season – in the majors. Keep an eye on all four because they could all have breakout years.
4. Will they Met expectations? Satin and Davis
Both Josh Satin and Ike Davis have shown that they can play and start on a major league club. Both have also proven that they can go through major slumps. Both are vying for a roster spot and wouldn't mind starting at first base; we will see how much longer the Mets can deal with inconsistency. Here's to hoping they can turn double plays together (Satin plays the whole infield).
3. New uniforms for Kinsler and Feldman
Both Scott Feldman and Ian Kinsler have new uniforms. Both come with high expectations. Feldman finds himself atop the rebuilding Astros rotation and Kinsler replaces the bat of Prince Fielder in Detroit. A great opportunity for both.
2. Breslow looks to go back to back
It's hard to make a name for yourself as a middle relief pitcher, but Craig Breslow has. Now with a World Series ring, let's see if Breslow can continue being sharp on the field and make it back-to-back titles for Boston.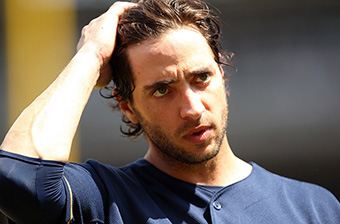 1. Braun's Back
Clearly the number one story is the return of maligned Milwaukee Brewers slugger Ryan Braun. Braun's steroid scandal rocked the baseball world as did his first at-bat of Spring training (a home run). Braun will have to keep battling the critics, but now it's time for his bat to do the talking. Go get 'em, Ryan!