Permanent link
03/31/2011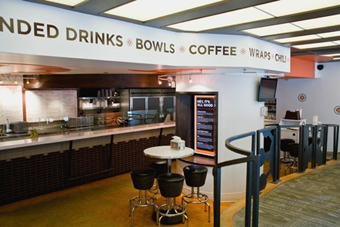 I recently sat down and interviewed a fellow health nut and owner of Protein Bar, Matt Matros. This was very exciting for me, as I love Protein Bar. It's not too often I find a spot that offers amazing food that's low in fat and calories, high in protein, and for a great value. The funny thing is, I sent Matt an email when he first opened with a few suggestions and he remembered me! While chatting, I realized just how passionate Matt is about nutrition and his staff.
How did you become a health nut?
My whole life I was fat. I got all the jokes, the nicknames, and being named Matt did not help. When I was 22 I decided, enough. I changed my diet to low carb- high protein and started exercising. I dropped 50 pounds in one summer. The items we sell are what I ate to drop my weight.
How did you research what's healthy?
That's a hard question to answer. The word healthy means so many different things to different people. For me, it means eating closer to the source, less processed. I worked at Kraft managing a cheese business and everything is so processed.
We also recently added a great nutritionist to our staff. Dawn Jackson Blatner is an incredible nutritionist and author. She has worked with the Cubs, USA Today, NBC, ABC, and the list goes on.
When are you not eating healthy?
I try to eat healthy all the time and fight the urge [to cheat]. I thought I could eat a little unhealthy occasionally, but it's all or nothing. It's hard to only eat a little. I like to go to nice restaurants with friends, and it's challenging to be good. I try to order lean meats with veggies.
What are three healthy eating tips for our readers?
1) Read the labels. Be aware of what's in a serving, fat, sugar, protein, calories...
2) Portion size is key. When I first started to get healthy, I would automatically toss aside a third of my food. Portion sizes are out of control.
3) Not all calories are equal. There are good fats (avocado) and bad fats (transfat) and the same goes for carbohydrates. The trick is learning which is which and eat accordingly.
What are the biggest misconceptions people have about Protein Bar?
I just received an email from a woman who said we should change our name. I wrote back, Pottery Barn doesn't sell pottery. The truth is, we are starting to outgrow our name. When we first opened I thought we were going to sell protein shakes and some food items. After six months, we noticed a need for more food items. The customers have really taken to our food. We are slowly becoming a burrito place. We are trying to give people what they want, and fill a void in the market.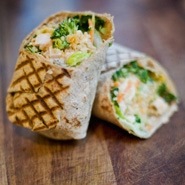 What is Quinoa and why is yours so good?
Quinoa is the highest non-meat protein. It's considered by many, a perfect food as it contains all the essential amino acids. It's also gluten free and lower in calories then pasta. I feel like other restaurants are going to start selling it more.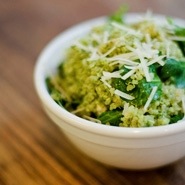 What's been the hardest part to opening your own restaurant?
Managing a staff is probably the hardest thing. You have to keep track of so many different things. I'm lucky the staff here has been great. We have had very little turnover the past year. Many of the people on my staff have other jobs—he's a photographer, she's a dancer, she's an actress—they all need to do something to do during the day and I'm glad I found them.
You're opening up three new locations, how are you able to grow so fast?
Again, we're just giving the customer what they want. There's been a void in the market and we're happy to fill it. I really try and listen to customer feedback. Our new locations will have more space. We are hoping to expand our offerings.
Word association:
Buff: Schwarzenegger, hey I grew up in LA
Fat: Me at 22
Whey: Our best protein
Cookie: Delicious-hot-chewy-gooey (he's still human)
Carrot: Beta Carotene, good for the eyes and skin- and juicing! We are going to do juicing in our new locations.
If you are looking for a healthy lunch on the go, check out Protein bar! The menu has a lot of great options for even the pickiest eater. My recommendation:
Bangkok Bar-rito
All-natural chicken or tofu,
snap peas, almonds, housemade
Sesame Ginger
dressing, and our Super
6 Salad Mix
455 Cal, 31g Protein, 12g Fiber, 4g Sat Fat, 3g Sugar 
Are there healthy restaurants you want to tell us about?