Permanent link
03/24/2014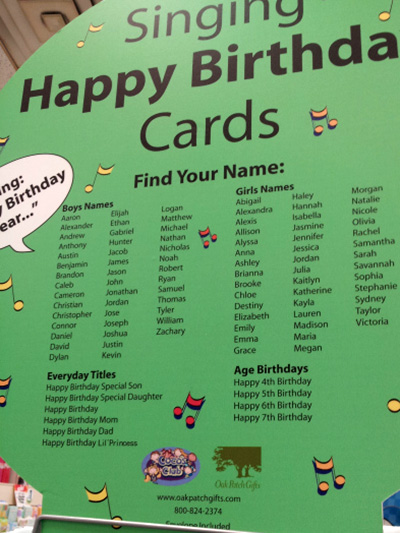 My name is never on a magnet at the souvenir shops.
I'm sure this wasn't a major consideration for my parents when choosing my name, and it's not entirely traumatic; but it's something that I've had to deal with my whole life.
Sometimes the stores have "Leah" stickers or "Lee" license plates; but never "Lia." It's just how life has been, and I've compensated for it in other ways, like getting excited to get an American Girl doll that looked just like me (and even came with a Chanukah outfit!). So in general, I guess, I had a pretty good childhood and didn't think too much about the stores full of magnets of Sarahs, Rebeccas, and Rachels, but no Lias.
But last week, while at Party City (obviously buying a Purim costume; why else would anyone go to Party City in March?), a display caught my eye. It was a display of "Singing Happy Birthday Cards" — cutesy cards with boys' and girls' names on them, and when you open the card, you're jolted awake with a birthday song.
Not sure why I like to inflict pain on myself, but I decided to do a little search. Where were the "L" girl cards? Ah, here they are. Or … here it is. Just Lauren. The only "L" girl name was Lauren. No Laura, no Linda, no Lydia, no Lanie, and certainly no Lia.
Curiously, I looked through the rest of the girl names. They don't make Lindsey, Leora, or Lena, but they do have Brianna, Jordan (for both boys and girls), and Jasmine. No Lexie, Lila, or Lori, but they do have Savannah, Madison, and Morgan.
And my favorite: Destiny (is her Hebrew name "beshert"?)!
I guess for now, I'll have to settle with "Happy Birthday Special Daughter" or "Happy Birthday Lil' Princess."
Or, for my next birthday, you can get me four "Happy 7th Birthday" cards and I'll just do the math on my end.
Happy birthday, Destiny, Taylor, and Victoria!