Permanent link
03/13/2013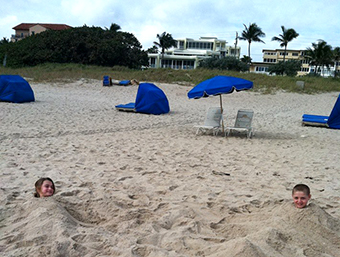 Burying my niece and nephew in the sand
There's something about celebrating Passover each year that makes me very happy. It's definitely not because I get to eat matzo for eight days and little else. But the story of Passover, of all the Jewish holidays, really speaks to me— maybe it's because it's going to finally get warm again…soon.
Growing up, my parents and my aunt and uncle on my dad's side alternated Passover hosting duties. With a large extended family, Passover was the once-a-year opportunity to be all together. My grandfather— as the head of the household— led the prayers. Our Seders were long and serious, but the food was frequent and plentiful and I was treated at a young age as an adult, instead of a kid.
Both of my grandmothers died before I was born, but on Passover I've always felt a special connection to them knowing we were eating their cherished recipes. (Though I never could learn to love my Grandma Clara's egg water or my great aunt's matzo-meal bagels).
As the youngest by many, many, many years on my dad's side of the family, I was ALWAYS tasked with reciting the four questions— at 25 I was finally able to hand over the reins.
Today, Passover in my family looks very different. I have several young-ish nieces and nephews and they "share" reading the four questions. No longer does the Seder seem so long and serious. While I must admit I feel some nostalgia for the past and for my childhood, our family has created wonderful new traditions. We've "acted" out Seders using finger puppets, we've added a cup for Miriam and an orange to the Seder plate, and we've moved our celebrations to a much different venue, San Diego, where my parents and aunt and uncle spend a good portion of the winter.
This year, spring break coincides with Passover, which means most of my family can make the trek. We will ALL be under one roof, for a whole week, with only matzo to eat! Yes, sharing a bed with my 10-year-old niece (who wakes up at 6:30 every day) may not seem like much of a vacation. But nothing compares to spending quality time with my niece (and nephews) in the kitchen, passing down our family recipes to this fourth generation. And I'm not going to complain about being able to visit the beach for a post-Seder walk to burn off all the chocolate covered matzo.
Here's to this year in San Diego. Happy Passover, everyone!