Permanent link
02/28/2014
As the last of the Valentine's Day chocolates are slowly being eaten, a question is on my mind: Is it possible to fall in love with a website?
If it is, well, then I have it bad for Pinterest. Bad.
In case you've been living in a cave for the past few years, Pinterest is a website that mimics a bulletin board. I see something cool that I like somewhere on the Internet, so I can take it and "pin" it to my bulletin board. You can see my bulletin board and if you like what I've "pinned," you can copy it to your bulletin board. Virtual bulletin boards with an unlimited supply of pushpins — count me in!
I'm not as active a Pinterest user as I am a Facebook user, but Pinterest has its moments for me. Here are my top favorite times to use this beloved site.
1. Searching for something specific. My favorite way to find new recipes is to pick a main ingredient and then search by that ingredient. If I'm looking for a recipe that includes butterscotch or red velvet or apple cinnamon, I'll head to Pinterest first and search for those main components, and I'll find dozens of butterscotch blondies, red velvet whoopie pies, or apple cinnamon banana bread chocolate chip pumpkin bread bundt cake lava cake. It's a haven for an avid dessert maker like me.
2. Daydreaming. I love looking at pictures of wedding dresses with bows, dream homes with grand staircases, functional treehouses with electricity, and cute ways to keep pictures of future children as they grow. I'm not really in the market for any of these things, but it's nice to daydream as I scroll through pictures. Wouldn't it be great if my bedroom had a sheer white canopy, periwinkle curtains, and 15 sequined pillows on my bed? What would my life be like if I had a mudroom with DIY antique hooks to hang raincoats? Could I be a person who has a wedding cake made of ice cream cones?
3. Finding new "life hacks" I didn't know I needed. I didn't know that there was a problem with the way I was organizing my paperclips — but now that I've seen a cute, creative, easy way to use magnets to keep them away from other office supplies, I must do it. Now. How did I live for 27 years without using a CD case as a bagel holder? What about a sneaky way to make my ponytail look longer? Yes please!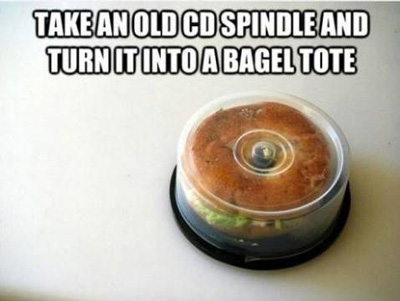 4. Killing time. This is really the main reason why I love Pinterest. It's a great way to kill a few minutes — waiting in line, friend is running a few minutes late for lunch, etc. — without getting too invested in something too deep. You can scroll through people's pins for 30 seconds or 20 minutes, and suddenly your wait time doesn't seem so bad. Or it's a great way to relax when you're trying to fall asleep. So thank you, Pinterest, for keeping me entertained until the wee hours of the morning.
See you on Pinterest!