Permanent link
02/20/2015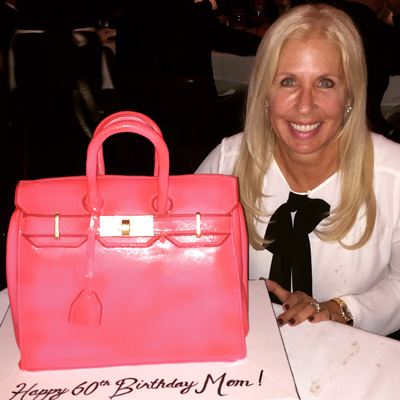 "Brush your teeth."
Yes mom.
"Call me when you get there."
Yes mom.
"Do you think it's a good idea to go out tonight with a cold?"
Probably not …
Where would we be without our moms? I, for one, would have questionable oral hygiene and still be suffering from a cold. As some of you know, my wonderful father turned the big 6-0 in January. Well, just around the corner, my mom had her 60th birthday in early February.
Her birthday was a blast. We dined at Formento's, which is a yummy Italian restaurant in the West Loop. (If you go there, get the Timpano Formento. It was delicious!)  At the end of the evening we feasted on a birthday cake that was a replica of a Hermes Birkin bag – very fitting for my mother who's a fashionista.
Because of this momentous birthday, (and because Dad got his own post) I wanted to highlight what I love about my mom:  
Her endless  support
I'm lucky to have a mother who has stuck by my side through all my questionable and outlandish decisions. Although she hasn't agreed with all my life decisions, she's always made it clear through her actions that she'll love me no matter what. What more could you ask of a mom?
Kindness
I rarely ever hear my mom talk badly about anyone or anything. If a movie receives a 20% on Rotten Tomatoes and is deemed terrible by the rest of society, she'll still say it was a very good film. I appreciate her positive energy because it's refreshing. We live in a world that's filled with negative opinions about everything, so it's nice to be in company you know will always be kind.
Wisdom and intelligence
My mom is a beautiful woman, but what makes her most spectacular is that she's extremely smart. Though she watches more reality television shows than her 24-year-old daughter, she knows what's going on in the world because she watches the news and reads newspapers. I admire that she can balance her interests in popular culture and hard news.
I'm only one of the many who is drawn to my mom for her loving kindness, and she has deserved this month-long 60th birthday celebration. Happy birthday, Mom, and to many more!