Permanent link
02/02/2015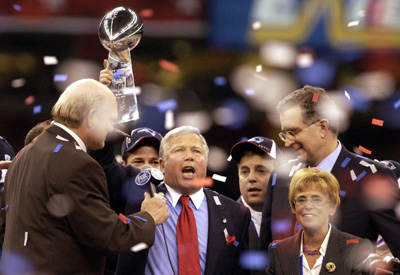 Congratulations to Super Bowl champions the New England Patriots, whose owner Robert Kraft and star receiver Julian Edelman (who went for over 100 yards receiving in the Super Bowl) have shown considerable passion for Israel. Kraft donated Jerusalem's major football field and Edelman was seen repping an AIPAC button on the sidelines this season. The Patriots also have Nate Ebner, a special teams player who recently saw his Ohio State Buckeyes win a National Championship.
In the NFL coaching carousel, after losing his job for struggling to command his team both on and off the field, former Chicago Bears Head Coach Marc Trestman has landed in Baltimore as the new offensive coordinator of the Ravens where he will work closely with Super Bowl-winning QB Joe Flacco.
Offensive linemen brothers Mitchell and Geoff Schwartz had solid seasons for the Cleveland Browns and New York Giants, respectively, while backups Gabe Carimi (Atlanta Falcons) and Brian De La Puente (Chicago Bears) saw action as well.
In basketball news, the season began with three Jewish players and we are down to one. Omri Casspi, despite injuries, has played well for the Sacramento Kings, while both Gal Mekel and Jordan Farmar look to catch on with new teams after being cut.
Jewish head coach David Blatt's Cleveland Cavaliers are beginning to show signs of life; the team made several trades adding role players and increasing the depth on the bench. The Cavs have won 10 straight games as of Jan. 31.
In the NHL, add Andre Burakovsky of the Washington Capitals to the list of hockey MOTs. Also, Jason Zucker is proving to be an up-and-coming player for the Minnesota Wild with 16 goals on the season including a game winner in mid-January. Mike Cammalleri is also having a strong season with 16 goals and 7 assists.
In baseball all eyes are on the youngsters. Joc Pederson saw a little bit of action at the end of last season for the L.A. Dodgers. We are hoping he is a breakout star this year. Also, Rob Kaminsky (St. Louis Cardinals) and Max Fried (Atlanta Braves) are rated in the top 100 prospects. Fried is a former top pick and the main piece in the trade that sent Justin Upton to the San Diego Padres. All three have a chance to be major stars in the Bigs.
Detroit Tigers Manager Brad Ausmus will also be on watch as the Tigers made some moves this offseason.
It was a busy offseason for Jewish Major Leaguers who joined new teams. Check out TheGreatRabbino.com for more information.