Permanent link
02/17/2015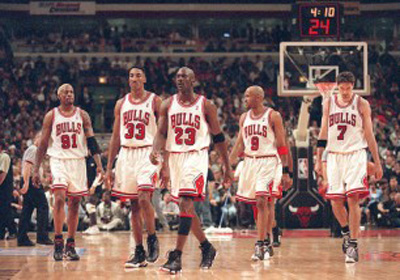 If you're looking for the greatest team in NBA history, look no further than Randy Brown, Jud Buechler, Jason Caffey, James Edwards, Jack Haley, John Salley, Dickey Simpkins, Bill Wennington, Ron Harper, Steve Kerr, Toni Kukoc and Luc Longley.
Oh, and that Jordan guy, his buddy Scottie and some wacky-haired worm.
I'm talking of course about the 1995-96 Chicago Bulls, owners of the best regular season record in NBA history at 72-10. Not only did the Bulls only lose 10 regular season games, but they only lost three playoff games on their way to their first NBA title since Michael Jordan's return to the court.
So, why are we revisiting this other than the warm feeling it gives me to think back on those glorious days? Because while teams will continue to get close (see this year's Golden State Warriors, coached by a member of that team, Steve Kerr) I believe this record will never be broken.
There was no such thing as a "rest day"
During the Bulls' 72-win season, Michael Jordan played all 82 regular season games. So did Steve Kerr. Kukoc played 81, Harper played 80, Pippen played 77. At no point did Michael Jordan decide he suddenly needed two weeks off like LeBron James did this year. Phil Jackson wasn't benching his stars on the second of back-to-backs. He had his best players there and playing almost every night. And while resting your stars tends to lead to losses to teams they should not be losing to, teams don't seem to mind anymore because, well, reason number two…
The regular season doesn't matter anymore
Somewhere along the line, top tier teams started to figure out that they could coast a bit in the regular season and find a new gear in the final two months heading into the playoffs. This was not the way things were in the 90's. Teams played hard and played to win every game. Seeding mattered and so did regular season awards. Stars were stars night in and night out. Which leads me to my next point.
Everyone wasn't a star
The Atlanta Hawks should have had all five starts on the East All-Star team. Many other teams have 2-3 all-stars or future all-stars/hall of famers. There were less stars in the NBA in the 90's, and the quality of reserve players has improved greatly. Teams then only had one, maybe twp top caliber players. Now so many teams stack their roster with all-stars, the competition is greater and there are more great teams to compete with. No one team is unbeatable.
And finally the biggest reason the Bulls' record will never be broken.
They had the greatest player to ever play the game…and he had a massive chip on his shoulder
Coming out of retirement during the 1994-95 season, Michael Jordan was still shaking a lot of the rust off. Jordan only averaged 26.9 ppg, his lowest since his second year in the league. The Bulls struggled to a 45-37 record and were eliminated from the playoffs in a devastating series against former Bull Horace Grant the Orlando Magic. It had been a long time since Jordan and the Bulls went to the playoffs and didn't go home NBA champions. Michael Jordan did not take losing very well. He came back the next year and averaged over 30 ppg on his away to his 8th scoring title, the league's most valuable player award, All-NBA first team and All-Defense first team.  Michael Jordan was not going to be denied two years in a row. If he was going to come back to the NBA, he was going to return to being the best in the game. The unique circumstance that saw Michael Jordan briefly retire, return, struggle and return to glory is something I don't think we'll see again.
And thus, the 72-win Chicago Bulls will forever be the winningest team in NBA history.