Permanent link
An Ode to OkCupid and Beshert in Chicago
02/11/2014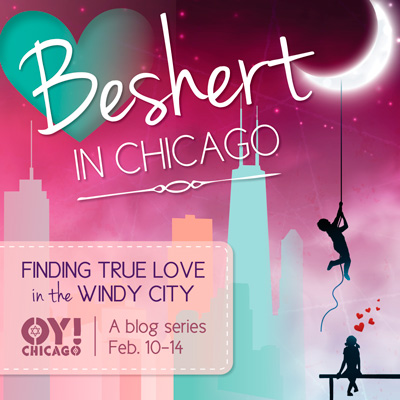 I'd never dated a Jewish guy in my life. I'd made a number of international choices with my men—I'd gone out with eligible suitors from India, China, Turkey, Mexico, Spain, Africa and Albania. I liked dating those who were not only different from me, but who also had interests outside of Miley Cyrus and hot dogs.  
But after four years of the college bar scene and the men who frequented it, the delusional dating, and the lack of follow-up, I'd had enough. I decided it was time to 'get serious' and date one of my own. After taking a Birthright Israel trip my senior year, I realized I wanted to be able to share my love of Jewish culture, passion for Mediterranean food, and my value in a Jewish identity with a significant other. I didn't want to have to explain who I really was to somebody; I wanted it to be a mutual, inherent understanding.  
I bought myself a JDate subscription promptly after graduating in 2012. Although just a simple gift to my "adult" self, I had successfully started my mission to date a Jewish boy, and was ready to troll as much as I deemed necessary.  
JDate was an interesting experience, to say the least. It was awkward, time-consuming, and entertaining. The best part was not the men, but the stories I had afterward. After six months of a magician who tried to lure me back to his apartment by showing me card tricks, an Israeli who got back with his ex then came crawling back, a guy with a foot fetish and a plethora of other quirky Jews, I threw in the towel and closed my account.
Before long (two weeks), I had gotten bored with my love life. I couldn't imagine meeting my beshert the traditional way. Would I meet him in the grocery store, when we both reached for the same box of Fiber One Protein Bars? How about on the El, where the train was so packed that we were actually trying not to touch each other inappropriately on accident?  
I didn't feel that was in the cards for me. I'm quirky, and I find it takes time to meet somebody I really click with. As a proactive person and somebody who doesn't have the patience to take part in a real-life rom-com, I decided to take my love life into my own hands and created a new OkCupid profile without much care. I wanted to try without trying. It didn't cost anything, and there would hopefully a whole new crop of men. Love happens when you're not forcing it, right?  
In no time, I came across a nice Jewish boy's profile. Jared was in medical school in Chicago, and he liked Mediterranean food. He went to the University of Michigan for undergrad, and I'm from Ann Arbor. Sold. I sent him a message using the wittiest pick-up line I could think of: So, what is your favorite Mediterranean cuisine?  
Apparently, it worked. After exchanging flirty texts over the Thanksgiving holiday weekend, we met at a bar for drinks. I could tell he was smitten; I thought he was adorable. We talked about the usual: careers, family, friends, Birthright, and food, of course. We reminisced about Israeli shawarma, which we agreed nothing else could live up to, and the search for the best Mediterranean restaurant in Chicago. We decided to find it together (we're still looking).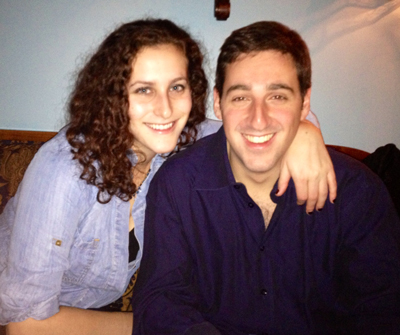 Just the two of us lovebirds
Prior to the date, I had joked that if he brought mistletoe, he'd get a kiss. As he walked me home in the bitter cold and we stopped in front of my apartment building, I knew it was time for the first goodbye. Like the end of every date, the anticipation of what would come next hung over me like a tallit. Would he ask me out again? Would he hug me or dive in for a kiss?  
Even though I wondered exactly how we would say our goodbyes, it felt different this time. I could tell there was no question whether we'd see each other again. It felt easy.  
Jared pulled a piece of paper out of his pocket. A picture of mistletoe was printed out on the paper. I stifled my laugh. It was cute, but so cheesy. I felt a little bit awkward. I thought he would have forgotten about it, but I was flattered he wanted the kiss so badly.  
"I searched everywhere for mistletoe, I really did. I couldn't find it, so I brought you this," he said. A for effort, I thought. So he got a kiss.  
I went home that night with my cheeks flushed from happiness. I didn't want to get my hopes up, because things never seemed to work out without complications, but I felt something different. He was more sincere than anybody else I met. He was the real deal.  
So at the beginning of our relationship, I really wanted to impress him. I decided to transform myself into a "domestic goddess." It's not that I feel an obligation as a Jewish woman to enjoy cooking, be amazing at it, and use it to find the way to a Jewish man's heart; it's also a key to my own happiness. There's nothing better than turning on Ella Fitzgerald and cutting vegetables!  
I made Jared gourmet dishes like spaghetti Bolognese, swordfish with mango salsa, steak with chimichurri, and even chicken shawarma and falafel burgers. There were always rookie recipe mistakes, but each dish still turned out miraculously delicious.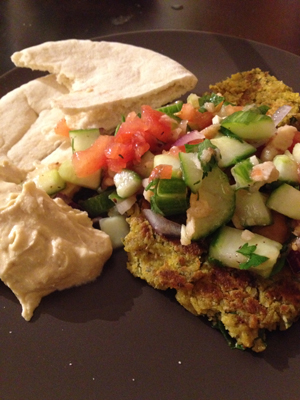 The falafel burgers
Jared loved when I cooked and he still does. I enjoy improvising with my recipes, and he enjoys devouring my dishes, except for baked goods, which is not my specialty (he agrees). Our love of food brought us closer. When we were too lazy to cook, we'd go out and explore Chicago's best comida. We went to one Mediterranean place, which shall remain unnamed, and Jared's shawarma tasted like a bad Caesar wrap. We never went back.  
We're an unsuspecting couple. We're obsessed with orangutans and enjoy discussing politics. He's more introverted that I am, and he's extremely punctual. I am not. But we're similar in a lot of ways. We're both passionate about our careers, and we want to be better than great at what we do. Even though it nearly kills me to go a week without seeing him sometimes, I'm so proud of him for what he does. He knows little about public relations, but he knows I love it and that passion fuels my work.  
Jared is also a great listener, a quality which is a rarity these days. When somebody can completely tune everything else out and really listen to what you're saying, it makes you feel like you're the only thing that matters. He genuinely cares, and that makes my heart sing.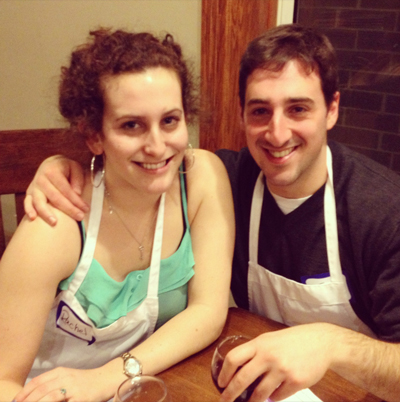 Us at a Mediterranean cooking class we took at the Chopping Block!
More than one year later, through our differences in the cosmic Judaic universe, we are still dedicated to finding the best hummus in the Windy City. I'll never forget why I first messaged Jared, or how my silly question ended up being catalyst of something that connects us and makes our love stronger.  
Is Jared my beshert in Chicago? Only time – and tabbouleh – will tell.  
For more posts in the "Beshert in Chicago" series, go here.  
Rachel Krasnow is from Ann Arbor, Mich. and graduated in 2012 from Indiana University-Bloomington with a dual degree in Spanish and journalism. As a Chicagoan, she works in public relations and enjoys writing, karaoke, eating, dancing, and sarcasm.