Permanent link
02/11/2010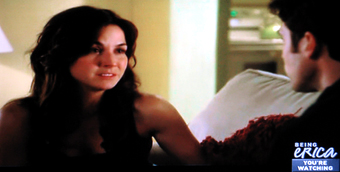 Perhaps, the Canadians have young Jewish women figured out better than anybody.
Recently, I have become enamored with the show, Being Erica —so much so, that it made my highly selective DVR list a couple weeks ago.
I'm slightly embarrassed to admit that I happened upon the show when I was catching up on old reruns of Beverly Hills 90210—the high school years, on SOAPnet one Saturday afternoon. What can I say—SOAPnet is how I take in my mental rest on the Sabbath?
However, Being Erica does not feel like a 90210 or a One Tree Hill, or a Days of Our Lives, for that matter. It's dramatic, but not in the tragically trashy way.
The main character Erica Strange, a 32-year-old woman, suffers many of the trials and tribulations young women face with dating, difficult co-workers at her publishing job, siblings with impossible in-laws and friends who are rushing to the alter or popping out babies, while she remains single, broke and frustrated.
She enters therapy to cope. Who knew Jews in Canada—like their American counter-parts—need therapy too? However, there's a catch, the therapy involves time travel. I know this sounds like a weird 1980s after-school special, but I promise it's better.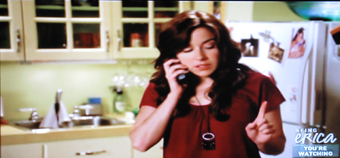 Through her therapy she's able to re-visit past events and regrets and try those scenarios over again—she even revisits her Bat Mitzvah in one episode.
Strange gets a do-over during every hour-long episode, which includes a conflict in her life in the present, which then gets dissected, clarified and illuminated through revisiting a past event that mirrors the present.
The SOAPnet site describes her journeys: "Guided by the mysterious Dr. Tom, she weaves through present and past, realizing she needs to take control of her own destiny."
All I have to say is—bravo, Canada, bravo! Finally, we have a show that portrays a modern woman that is in touch with her own emotions, intelligent, independent, modern, real and trying to take control of her own destiny.
If one merely looks at the title of the show, Being Erica, it hits on the fact that the main character is in a transitive state. She exists in each moment in her life, trying to figure it out—much as anyone is—on a day-to-day basis. Granted, her problems fit into one-hour episodes with some carry-over, but her character does live in the moment—a rarity for the modern TV character.
The realness of Erica is ironic, I suppose, because she exists in such a surreal world where time travel is somehow OK, but she herself, is someone you might meet on the street. She doesn't wear a ton of makeup, she can be awkward at times and she's vulnerable—something one also doesn't see on TV often these days.
I would say many women on TV are glossy, weigh 2 pounds and cry without earning it, within the context of the show. In addition, the fact that Strange is Jewish is not neatly tucked into a stereotypical box—it's just one part of who she is on the show.
The show is all about her mending the relationships in her life, and many of them are not romantic in nature. The show does not tread lightly, but rather deals with sexuality, death, family relations and identity—the ingredients of life.
 
The Canadian broadcasting Web site features the show and also has a page that asks the question, "If you could go back in time to any point in your life, what point would that be? Why would you choose that moment, and what might you do differently?"
I know that we cannot perform the miracle of time travel. However, I do believe that it's possible to take control of our own destinies by taking a moment to reflect on our relationships with others, how past moments could have been handled better, and ways in which we can mend, heal and grow.
Oy!Chicago bloggers are big fans of "Being Erica." If Blair's review of the show piqued your interest, check out Sharna's interview with the show's writer and producer, Jana Sinyor.