Permanent link
12/31/2015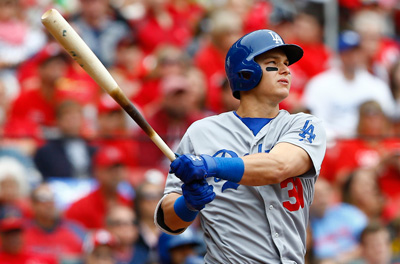 Joc Pederson
A lot of the big free-agent splashes have been made already, dominating baseball headlines, but here are the Jewish story lines to follow this baseball offseason.
Be Like Ike
After a mediocre year with the Oakland Athletics and their never-ending ability to retool, Ike Davis finds himself out of Oakland. The power-hitting first baseman hit only three home runs last season. Someone may take a flyer on him in hopes he can regain his 32-HR strength from back in 2012.
Start with Breslow
Craig Breslow has been one of baseball's most reliable pitchers in middle relief. But he is seeking a job as a starting pitcher. He's done in Boston (though we have said that before) and looking to reinvent his career.
More than Three Starts
Jon Moscot of the Reds was off to a 1-1 record in his first tgree starts, but then he blew out his shoulder. Moscot was the newest Jewish pitcher in the league and we hope he can get back to where he was before the injury. He made an appearance at the Reds Winter Festival and looks ready to get back to work.
Who's Next?
We are always looking at who has the potential to be the next Jewish major leaguer. Both Jeremy Bleich (Indians) and Richard Bleier (Nationals) have come close. We will watch to see what happens, but my money is on Maxx Tissenbaum, who was recently traded to the Marlins, and Zach Weiss, who was rumored for a September 2015 call-up with the Reds. Others to keep an eye on are Max Fried (Braves) and Alex Bregman (Astros), both first-round selections.
Second Chances
Cody Decker finally found his way to the Bigs and is now in Kansas City. Nate Freiman didn't appear in the Bigs after a decent amount of success in 2014. Josh Zeid spent the whole season in the Minors too. Will these three help boost the JMLB numbers … and their respective teams?
Ausmus on the Hot Seat
Some would call Brad Ausmus lucky to still have his job. The Tigers grossly underachieved last season and the Ausmus rumors were everywhere. But he is back, we are happy, and hopefully he can prove to Detroit just how great of a manager he can be.
Braun's Back
There were, and continue to be, trade rumors surrounding Ryan Braun. He serves as Milwaukee's best asset. But after off-season back surgery, he first needs to get healthy.
Gabe Kapler and the Dodgers
Gabe Kapler was rumored to be in line for the Dodgers managerial position, which ultimately went to Dave Roberts. But Kapler remains with the team and is waiting for his shot. If Roberts slips up, Kapler could be next in line.
Jerry Narron and Israel
Israel was announced for the qualifiers for the 2017 World Baseball Classic. While we wait to hear who will make up the roster, we do know Brewers bench coach and former MLB Manager Jerry Narron (not Jewish) will be on the staff. A big believer in Israel, Narron is excited to be a part of the team.
Joc Pederson
Joc Pederson owned the first half of the 2015 season and was named to the All-Star game. He was all but anointed National League Rookie of the Year until a less-than-pretty second half of the season. Jewish baseball fans everywhere are locked into Joc's story. He is young, talented and wearing Dodger blue.